---
Part 2 of this amazing topic of finding and developing your product line. Meir delivers the goods, and this is a highly recommended listen for anyone doing a product based business, whether it is e-commerce, Amazon FBA, or a retail shop! The logic and decision making process of choosing which product to keep and which to cut is major part of business in this game and we are lucky to have this episode today, enjoy!
Also – Meir will be a speaker at our upcoming Cross Border Matchmaker in Shenzhen, China on Friday Oct 27, 2017 at Globalfromasia.com/matchmaker
Now, let's tune in!
Topics Covered in this Episode
Biggest Product Decision Factors

In my opinion the following factors has the most impact on my decisions: Risk, Sales Volume, Differentiation Potential, Potential Product Line. Risk has the highest priority and when I'm talking about risk I mean, what is the range of my control on the success of this product? Can I control the quality of the product? Can I anticipate the response of the audience of this product?

Example of a Trend Gone Bust - Hoverboards

During the years, I have watched many great product or at least ideas that had a great start and became a disaster, for example 2015 hoverboards trend! It was the hottest product of the year, and sales were great but quality issues caused many to go out of business and left with debts, I know factories who went bankrupt.

Predicting Sales volume

Sales volume is harder to know when choosing a new product that haven't been in the market before. But if you choose a product that is already marketed and sold, or if there are similar products, it will be easier to estimate the sales potential. I will not go for products with low sales potential, and my formula is this: Connecting Sales Volume and MOQ (Minimum Order Quantity) Sales Volume => MOQLEAD TIME. It means the product should sell at least the MOQ of units in a period equal to the period it takes to produce the product and ship it to amazon. Of course, there are some other factors I will look at, but this is my thumb rule.

Product Differentiation

Differentiation Potential is important factor that many sellers pass or may not be aware to. It determines how far you can differentiate your product from your competitors. For example, if you are going to sell greeting cards set, you can easily create a unique product by designing your own artwork. It's true also for kits or sets you build from different item to create a new product, for example a kit for homemade kombucha. Bad example could be a garlic presser, watermelon corer or baby bibs.

Potential Product Line

Potential product line is what I consider the foundation for growth. In some niches, it's easier to add products than others, for example, sunglasses. If you sell sunglasses, the only thing you'll have to do in order to grow your product like is to add new models/designs, you will be able to use the same packaging and accessories for most of your products and focus your efforts on one type of products with big range and offering. Another thing that I would consider is product combinations, for example, would people buy this product in different quantities (bundles of 2 or more)? Would I be able to sell some of the additional accessories as stand alone complementary products?
Mike's questions/ideas:
I always think about 2 sides:
Like the product – it's good because you will enjoy sourcing, selling / writing descriptions
Like the PROCESS of ecommerce – this is like the millionaire who owns the garbage compactor business. Who likes garbage? But he likes the business process, and making money.
Can it be PHASES?
In Para Living we have:
Short term – making it for Christmas, make money – get cashflow.
Long term – invest in a brand.
Can an ecommerce business go through phases? I know some… Chinese…. Sellers who start selling fake products, and invest later in their own brand.
I think the key is to START – and to learn – and be a master of the process.
People / Companies / Resources Mentioned in this Episode
Show Sponsors
Please show support of our GFA media sponsors as they make this podcast possible to be free!
Supercharge your sourcing with Global Sources' unique Online-to-Offline services.
Episode Length 25:01
Thank you again, Meir – part 2 of 2 – and third time on this ecommerce gladiator audio podcast series. Don't forget everoyne- Friday Oct 27 – we are going to have a one of a kind event bringing top Amazon FBA sellers from around the world – China, Usa, Europe – to share strategies and make deals together. Hua qiang bei, Shenzhen – globalfromasia.com slash matchmaker – hope to catch you there.
Download Options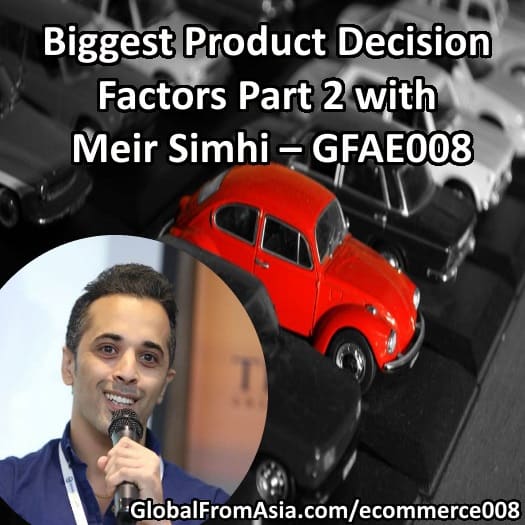 Podcast: Play in new window | Download
Subscribe: Apple Podcasts | Android | RSS