---
Having a good team is critical to the success of a business. I know my team is reading this – as I am putting this into Google docs – and we have a great group of people on our content posting and marketing team that will handle it from Google docs to WordPress to publishing on social media.
It is a huge upfront investment of time – and I haven't written a book in a couple years because of it. I am investing in building an online team so that I can write a bunch more books in the future – once the systems are going.
So that leads nicely to today's show – Nathan Hirsh, co-founder and CEO of Freeeup a platform to help you find vetted and quality online staff. He and I have a great conversation and I think it will help many people at various stages of their business – ecommerce or not. Enjoy!
We have had a great podcast with Trushar on episode 161 sharing his experience of leveraging outsourced staff for his Amazon FBA business. We are extending our discussion on this with Nathan – who has built a massive e-commerce business by tapping into online talent as well.
Topics Covered in this Episode
Intro Nathan

How did you get started selling online?

What was the point you started to decide you needed to outsource?

Many people just want to do everything themselves. Were you ever like this, or always outsourcing from the get go?

Department levels, management and outsourcing

What should you keep internal in a company? Do you need to have different management levels to keep the business moving, or can everything be outsourced?

When should people decide to start building their online team?

Should listeners do it from the get-go? Maybe they should learn a bit before outsourcing at the beginning, or just hire from the gate?

Training the staff and divvying up tasks

How can they get this online team up to speed?

Communication tools

What are some good ways you think people should keep on top of their teams?

Different levels of online staff

Follower, do-er, expert/consultant

Common Pitfalls

What are the biggest mistakes people make with managing an online team.

Timezones

Are most of the people you working with in Asia? You're in Florida- so tough for timezones (even us to coordinate this interview) – how do you suggest people structure their schedules for dealing with online teams.

Getting started

What is the first thing someone should do when starting to build their online team?

About your service FreeeUP

What is it and how does it work

How did this get started?

How's the business going?

Ways people can find you online
People / Companies / Resources Mentioned in this Episode
Episode Length 33:12
Thanks Nathan – great to have such a famous person here on the show. We are pushing forward at Global From Asia – this is the interview series getting close to 250 shows. Next week is Ecommerce Gladiator and we have some big news – a new GM has been confirmed and we will talk about what is changing at Para Living Inc – we are making some big moves!
Download Options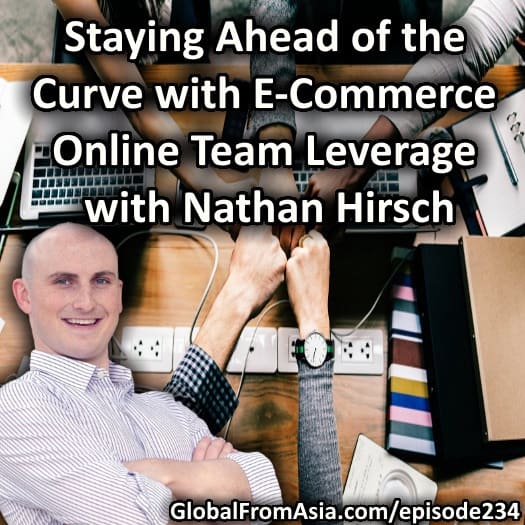 Podcast: Play in new window | Download
Subscribe: Apple Podcasts | Android | RSS