---
Catching up over the weekend after an amazing Global From Asia cross border trip – we had the HK trip this past Friday and it was an action packed day! Bunch of us crossed into Hong Kong from Shenzhen, visited logistics company in the morning, Korean BBQ lunch, afternoon workshop with 4 amazing speakers, and then an evening networking and live podcast recording! Thanks to all the speakers and attendees for making it a great success. We'll have one on Jan 13th in 2017 going into Qianhai Free Trade Zone in Shenzhen – check it out at globalfromasia.com/qhtrip
And this weekend we just signed up my son Miles for nursery school -he's 2 and a half now time is flying and there is a day care nearby – we had some practice classes and he is a wild kid not listening to the rules….i couldn't help but chuckle.
Ok, now for this week's show we have Oscar Barbarin, discussing the history of F2C – or Factory to Consumer and how he and his firm have been working with Chinese factories on selling on Amazon. Thanks Sean Morriss – an attendee of the globalfromasia.com/HKtrip for connecting us – Sean is also at the firm and made this interview a reality! It is a fascinating talk, for the show notes – this is episode 150 – so go to globalfromasia.com/ episode150 – now let's dive in.
Topics Covered in this Episode
Introduction

Introduce Oscar Barbarin

History and Background

History of F2C (M2C) – I am fascinated with the idea of F2C, being factory to consumer, some also call it Manufacturer rot consumer. What have you seen in the F2C world.

Evolution of Chinese Factories

How have you noticed the evolution of Chinese factories going onto B2C e-commerce. I remember coming in end of 2007 and they were not willing to take inventory and invest in their own brand. Seems this is changing is it Amazon as a channel that is changing it?

Biggest Challenges of Manufacturers Going Direct

What have been the hurdles factory owners have had when going F2C? Is it branding, marketing, distribution? They have the manufacturing side down pretty good – so I am thinking it is more on the "softer skills side".

Competing with Current Customers

Thought process and the numbers factories need to run to decide to go to direct market or not.

Amazon Opening for Chinese Factories

When did you see Amazon start allowing Chinese to list on the US market? I remember back in 2012 when they were needing to open up US Delaware corporations in order to get on Amazon – but now any Chinese factory can whip open an Amazon seller account and list.

Amazon Cracking Down on Chinese Sellers Recently

How Amazon has been dealing with the Chinese factory sellers in the US Market.

Looking Ahead

What do you see for the future of Manufacturers distributing direct to consumers worldwide? Private label, white label, brands.

Tips for Listeners

Let's think about the entrepreneur listening – many are doing their digital nomad business from their laptop in Chiang Mai, Thailand. How can they best prepare for this coming wave of Chinese brands distributing direct to consumers online?

Case Studies - Positive

Your firm has worked with some of these factories, can you share some of the positive case studies?

Case Studies - To Learn from

And, we always learn the most from, mistakes. What have been some examples of a Chinese factory attempting to build their own brand and going global, but failing?

Connecting

How can listeners reach out to you and your firm? Any special offers for listeners?

3 Tips for Listeners

Oscar drops some value!
People / Companies / Resources Mentioned in this Episode
Episode Length 36:36
Thank you Oscar! Let's see how this F2C (factory to consumer) or M2C (manufacturer to consumer) goes. Now – take Oscar up on his offer to check out some of your Amazon listings – and if you didn't catch the domain name – there was some internet issues – it is cathayfenix .com
Or just head on over to our show notes – globalfromasia.com/ episode150
Enjoy the rest of your week – we are nearing black friday and then Cyber monday – so I hope all the business owners and sellers rake in the cash! Can you believe 2016 is almost over. Let's make the most of it – cheers!
Download Options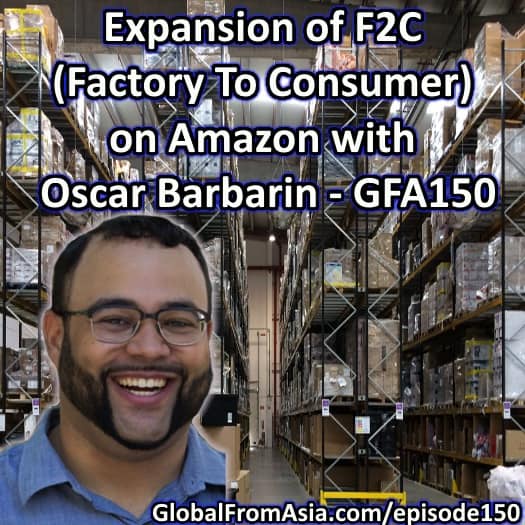 Podcast: Play in new window | Download
Subscribe: RSS