---
This week we have Chris Rawlings, CEO and Founder of Judo Launch a hot new startup helping Amazon sellers launch their products. We connected as I'm an alumni of Chinaccelerator (class of 2012!) and he just wrapped up his time there. We met at Cross Border Summit in Shenzhen he hosted a round table and we are both making things happen.
So we got him on the show today to talk about his journey from a 7 figure Amazon seller to a software startup and coming to China. He has been all around the world, and shares a fun adventure and insights of the journey so let's tune in.
Topics Covered in this Episode
Intro Chris Rawlings

Thanks for coming on the podcast – and for hosting a round table at the Cross border Summit – glad you could make it down from Shanghai!

How did you first get into e-commerce?

What was the gateway to Amazon FBA?

The turning point where you could see the FBA business scaling

Was there a day you woke up and you felt – now this is a million dollar business. Or was it just a daily grind and hustle that built up over time?

The biggest struggles

What are some of the biggest challenges growing a Amazon FBA business

Bootstrapping - give us an example

So we know what bootstrapping is – can you share some insights on the times you were like – wow this is harder – if we had funding we could rock

Transition to Software

So how did the move from FBA to a software company happen?

Funded Startup

So you're a starting in Chinaccelerator – I'm a batch 3 alumni! How did this happen – what is the story here.

First time to China / Asia/

You're still pretty new in town right, a few months now? How has the journey been

Next steps

What are the next phases of this epic journey

About your business and how people can reach you

So how can people connect up.
People / Companies / Resources Mentioned in this Episode
Episode Length 48:46
Thank you Chris for sharing. I am happy to give some of my inputs as an advisor plus to help out a fellow Chinaccelerator startup alumni, jia you (add oil in Chinese). I am preparing for my trip to Philippines, the first leg on a four country expedition with my amazon wife Wendy as we look for our new home (sounds like a joke, but for realz!)
See you on the podcast next week, thank you so much for choosing to listen!
Download Options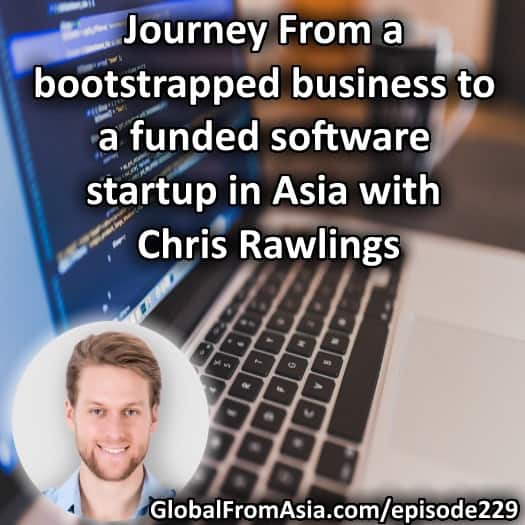 Podcast: Play in new window | Download
Subscribe: Apple Podcasts | Android | RSS