---
History of Rise Conference Coming to Hong Kong for Round 2 with StartupsHK co-founder Casey Lau
Are you ready to rock?! Maybe it's the extra kick of tea I had before recording this – but life is good. Also had about a 30 minute wechat video call with my parents showing off my kids. That was a good investment – I mailed them a smart phone pre-installed with Wechat and a HK number connected to it so no need to setup or anything. Still worry there will be some IT update and it will stop working but its been ok for about a year now. Technology is really helping us all stay in touch around the world – just like this podcast – making things happen.
We're already in the middle of May – halfway mark of 2016 is coming. And this also reminds me that the Rise Conference is coming to Hong Kong. I'll be there as well as thousands of others – yes I said it – thousands! This is a big one, and a lot to it. So I decided it was time to get Casey Lau back on the show with us, he is the co-host and our local HK connection
Topics Covered in this Episode
Casey Lau

Case was with us back in episode 3! Thanks Casey for always being awesome and coming on the show!

Hong Kong start up

Since then, the hong Kong startup scene has exploded, what are some of the latest numbers or news?

What is the Rise Conference

And of course, the Rise Conference is coming at the end of this month. Will be the 2nd one now here in Hong Kong – for those who may have been hiding under a rock – what is the Rise conference?

Web Summit

So this is a Web Summit event, care to share a bit of the background of how this came to be?

Relationship with HK start up

Startups HK is a partner? What's the relationship

Start up last year

I was there last year, it was amazing – what were the numbers like? Definitely the biggest startup event in Hong Kong – and in Asia?

Highlights

Some other highlights, I had fun at the pub crawl too, as well as the booze cruise – this is like a 3 day event that extends a bit before and after as well

This Year

How is this year looking? It is May 31 to June 2. Last year it was about 5 thousand people, this year it will be about 10-12 thousand people. Double the size.

What is the long term plan for Rise in Hong Kong?

Hoping that Rise will be here for the next few years at least and we are working on other projects to keep the momentum going but might also branch out to other cities in Asia.

Get involved

How can people get involved – participants buy a ticket of course. How about startups?

Contact

Thanks Casey – so they check out riseconf.com – any thing else for them to connect with you , any other social networks.Twitter: @casey_lau and linkedin.
People / Companies / Resources Mentioned in this Episode
Episode Length 19:42
Casey rocks! He is the guy to know for Startups in Hong Kong. A busy person as you can imagine so if you can catch him, appreciate that.
And I haven't mentioned it on the podcast yet – but we are in early stages of our private membership club for Global From Asia, had some calls with new members and it is really amazing to be able to connect with readers and listeners more intimately! If you want to see the early offer and lock in a speical price check out globalfromasia.com/club we will have private group calls, a private forum, events, special discounts and more value as well as connect with each other more. Don't worry – the free podcast and blogs will all stay the same – this is just another level up for those who want even more
That's it this week everyone, thanks for sticking to the end of the show and I'll see you next week – more China manufacturing focused one
Download Options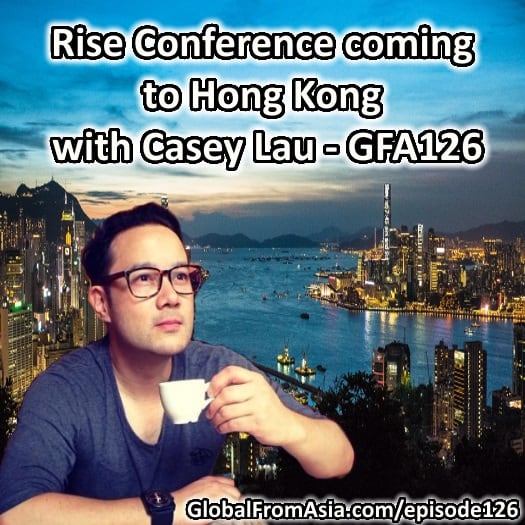 Podcast: Play in new window | Download
Subscribe: Apple Podcasts | Android | RSS