Podcast: Play in new window | Download
Subscribe: RSS
When employing overseas talents, which working visa is the most appropriate? Employment Visa vs. Investment Visa, criteria to apply… of maybe get married for a dependent Visa, – episode 82 of global From Asia is where' you'll get some ideas!
I'm riding a high today, was put in this past weekend's People column of the Shenzhen Daily newspaper. A few friends told me on twitter they saw me there, and I knew I would be in an upcoming edition, but not so far. I went downstairs to the news stand to pick one up, and right there on page 9, my big ol' face and a full page story! Titled "From Wall Street to the New Silicon Valley" – ha, guess the reporter wanted to play up China or Shenzhen as the new silicon valley. Sure, may as well as some spice to the article, I'll link to it in the show notes of today's show at globalfromasia.com/episode82 !
So today's show, we have Fion Sen from Bridges Executive Center, who for those listening to the show have heard a few times. Listeners always enjoy her, and today she is talking about employment visas for "overseas talent" or foreigners – we have had Steve Barnes on episode 4 and 42 talking about this topic as well – but we have some new angles and this show today is for the business owner perspective more than the one applying for the work permit.
As a "foreigner" myself, I understand the questions and wondering the risks my company takes when employing a non-local in the country they will be working in and I hope today's show helps give other business owners out there some ideas and hope! Also, as you may know, I'm an affiliate for Bridges and if you do decide to go with their service for hiring an overseas staff in hong kong, please tell them you heard about them from global from asia so that I get a commission, no extra cost to you! Hard to track, but if you go to globalfromasia.com/overseas this will send you to the affiliate page for the Hong Kong working visa package.
Another fun fact – foreigner like me have a dirty little nick name in Hong Kong, or in Cantonese , called gweilo – which means white devil. Maybe us white people used to be, or maybe still are considered white devils, plundering countries around the world from Europe back in the olden days…. nowadays its not taken so seriously as a bad word but it does have some negative connotation with it…
Ok and now on for the show….. ok, so now I have to admit something to you guys….this interview I mixed up with episode 75 – Fion was on in that show as well to talk about hiring local hong Kong people for your company, but actually for a couple weeks now it has today's show – so I had to ask Boban to switch out that interview from episode 75 and put it here in episode 82 – I was thinking maybe to make today's show the 75 one, but for the long term listener, i want it the show notes and episode numbers to be in order. So if you want to hear about hiring local hong Kong staff, go to the NEW episode 75 show interview, and if you want to listen in on hiring overseas staff aka foreigners, listen on – cheers
Topics Covered in this Episode
Thanks for coming back on the show Fion , do you mind to introduce yourself to our listeners for those who are first time listeners?
Today we're discussing employees non-local Hong Kong people, as any government in the world, Hong Kong prefers companies to hire locals, can you share some insights on this?
What is the process for hiring a non-local HK person?
So you need to first consider local Hong Kong people for the job right?
Once the employee is hired, it is OK right, or needs regular upkeep?
As long as you want them to stay employed, they can stay right?
what if the employee quits?
What is the difference of an employment visa from an investment visa?
And maybe the foreigner can be a defendant visa on a local? Can we talk about that – say we have a husband or a wife who is a local HK person – how does that work
So on a dependent visa you can work in Hong Kong?
Is the process the same for all non-HK people, I think it is harder for Mainland Chinese than Westerners correct?
Any last tips for businesses listening who are trying to hire overseas talents in Hong Kong, for talent they are not able to find locally?
Ways people can reach out to you -you can help with this service?
People / Companies / Resources Mentioned in this Episode
Episode Length 22:20
Ok, thank you everyone for listening in – no new iTunes reviews this week – so nothing to read. But I have been getting more and more emails – people really liked Russell Smith's show last week, episode 81 , a few people seem to want to hire him for some china sourcing and other projects – so I am really happy about that!
If you're interested in applying for a visa in Hong Kong consider Bridges and I'm an official affiliate so mention you heard it from Global From Asia for special treatment and price!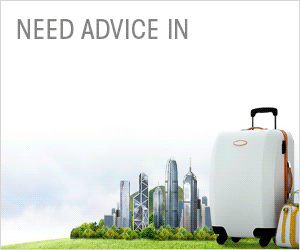 Tune in for next week's show and we are going to talk about the fun topic of organizing your receipts – for any business, but we are also going to drop some tips and hints for Hong Kong business owners especially – have a great week everyone and catch you on episode 83!
Download Options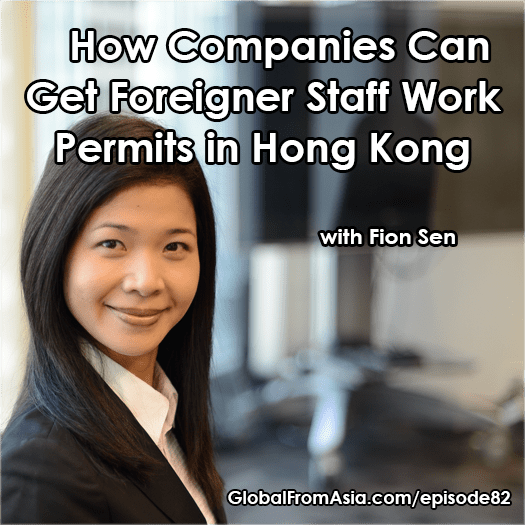 Listen in Youtube: