Podcast: Play in new window | Download
Subscribe: Apple Podcasts | Android | RSS
Looking for Fun Places To Tour in Hong Kong – we got some locals for you today – Global From Asia episode 87
I'm hoping everyone is having an incredible day! So I'm all zen after doing some meditation, but as the hot and humid summer is here so are the mosquitos. And they come after my sweaty self in droves….it's becoming pretty hard to focus on meditation while you're being eaten – luckily my wonderful wife bought me a pop-up mosquito tent so when i'm out in the garden I can sit under this bad boy – when there is a will, there is a way, right?
So this week we got a five star review – I'm so happy to get one that I'm going to read it off first – been almost a month now, so this motivated me a ton to get today's episode edited and online!
From: oijfoiejrfoierjfer
Location: United States
Date: 2015-05-27
Rating: 5 stars
Title: Outstanding content about Asia
Message: I've been listening to Mike's podcast for a while now and he posts absolutely incredible content which I haven't been able to find anywhere else. He interviews real experts, people with on the ground experience and shares a huge amount of knowledge very openly. This podcast is a major asset to the community
Thanks oi – most likely hiding your name, but thanks for the review regardless – glad you're enjoying the shows and will enjoy today's – so today we have a team where I am a volunteer mentor at Founder Institute in Hong Kong – 2 awesome female entrepreneurs Maggie and Anita who have a startup connecting visitors coming to Hong Kong with local guides – so I got them on to give us some tips on where to go in Hong Kong when here on business. I know a lot of you come to Hong Kong for just a limited amount of time, and hopefully this show can be a resource for you to pick some cool hidden gems to visit, I also got a ton of links and resources they mentioned on the show notes at GlobalFromAsia.com/episode87 so check those out – now let's listen in
Topics Covered in this Episode
Introductions by Maggie and Anita, background / meeting each other starting Sam The Local
An Overview of Hong Kong tourist market – who are they, what are they doing?
So most of our listeners are business owners, coming in and out of Hong Kong with a 3 to 5 day timeframe. Maybe they're free for some drinks and food at dinner – and maybe that have 1 or 2 days open for travel / touristy stuff – let's list out a few popular places
How much time does someone need for these trips?
Big Buddha – was it really that ancient?
Victoria Peak, the must see tourist destination
Beaches?
Night Markets for tons of shopping and bargain hunting in Hong Kong
Star Ferry between Hong Kong Island and Kowloon
So your company Sam The Local is a cool idea and that's why I got you on – you help visitors find local tour guides – and I'm hoping some listeners can take you up on the offers – give us a pitch for your business
So we met from Founder Institute, you guys enrolled in it – give us some background of your goals from the program and your business
Your company name – where did Sam the Local come from?
Any tips for a business traveling coming to HK for 3 days – banking, clients, conference / trade show – whats you're favorite thing for touring?
How can people reach out and contact you and your business
People / Companies / Resources Mentioned in this Episode
Maggie & Anita's company – Sam The Local – find local tour guides in Hong Kong
Mike's Hong Kong travel guide
Bars:
Ozone – Tallest bar in the world. Located at the top of the ICC, it has a great view of the harbor.
Aqua– Kowloon side with a great view of the
Hong Kong skyline.
Red Bar; BYOB bar that has a great view of the harbor from Hong Kong Island. There¹s an actual bar there too so you can just buy drinks, but this is a chill place to hang out and catch up with people.
Ori Gin; Bar that specializes in gin drinks
Angel's Share; Bar that specializes in whisky drinks
Quinary; Part of the same group as Ori Gin and Angel's Share, Quinary is a more hidden bar that offers unique cocktails
Mrs. Pound; A speakeasy bar that requires you to turn a specific knob outside to open the door.
Honi Honi; Tiki cocktail lounge that offers a variety of fruity drinks served in fishbowls and watermelons.
Billidart; A hangout place that offers beer pong, flip cup, darts, and billiards
Food:
Kau Kee, Beef brisket noodles located in Central
Tim Ho Wan, Cheapest Michelin starred restaurant which serves dim sum. The Tai Kok Tsui and Sham Shui Po are one Michelin starred, the Central one isn't.
Lin Heung Tea House, Old style dim sum place located in Central where you have to go get your own dim sum when they¹re wheeled out. It¹s generally chaotic so it¹s not for the faint of heart.
Yat Lok, Great place to get Chinese BBQ like roast goose, BBQ pork, and roast pork. Located in Central.
Tung Po, An indoor dai pai dong (open-air food stall) that¹s great for group dining. Their seafood is great and the environment is loud with music and chatter. If you¹re lucky, the owner will come over and drink with you!
Episode Length 43:31
Thanks for coming on Anita and Maggie – I am really excited about Sam The Local and I will be telling friends and visitors into Hong Kong to give it a shot. I was also mentioning that it is a good resource for locals in Hong Kong who are too busy to take their friends around as a tour guide they can buy some time, literally – for their visiting friends to see the sights while they may be busy in the office or on a project or out of town.
I appreciate all of you for listening – keep it up and if you have questions or comments, best if you can interact on our blog at globalfromasia.com/episode87
Next week we'll have some far out sci fi talk about floating island countries. Its a new concept to me, and maybe we'll soon have new governments formed out in sea! Catch you at lucky episode number 88 – those who don't know 88 is a lucky number in China, catch you soon peace!
Download Options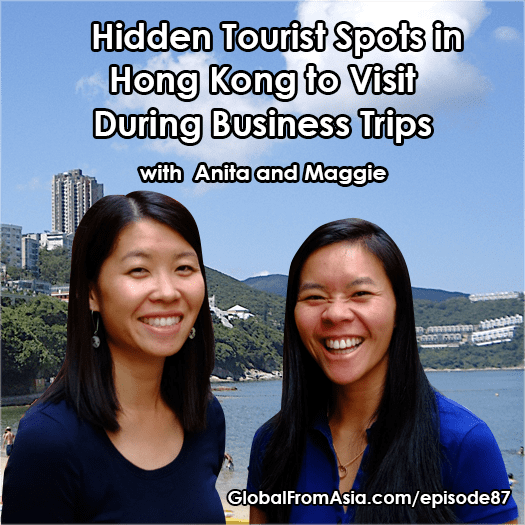 Listen in Youtube