---
Welcome to Global From Asia episode 165, as always let's discuss some updates and here's Claire to share about Cross Border Summit news. We have great speakers and tickets are selling faster each day!
Mike has been cranking out content more than usual – fast video blogs, and people enjoyed the "Hong Kong vs China" video, and Claire likes the "Do you have Yellow Fever" video blog – we'll link the up in the show notes.
Ok, and this week's show we have Jason Green, he is an awesome dude Mike connected with on Facebook that had a very different way of getting educated growing up – traveling in his mom's hippie van! He turned out ok, and Mike was especially curious as he has his 2 kids getting ready for school now.
So let's listen in – episode165 of Global From Asia
Topics Covered in this Episode
Intro Jason Green

Traveling memories

What are some of the main memories you have?

Stories your mom gave you?

How did she explain this lifestyle? I am sure most of your friends didn't have it like this?

Friends

How did you make friends- how long would you stay in one place?

Education

So you said you only went to 1-2 grade school – the rest – your mom taught you – on the road?

Getting Employed

So how did you get such sweet jobs at companies like Apple? You must have some certifications

What are you unto nowadays?

So how did you turn out after all 😉 Life is good?

Would you do this for your kids?

Having been through it yourself, is this what you plan to do for your kids?

How would you explain it to your kids?

What would the sales pitch be? What if they didn't like the idea?

Do you recommend this for other parents?

I'm particularly interested because I'm a new father with a 3 year old son and a 1 year old daughter. School is fast approaching and I wonder how I can make this work out.

Recommended reading / Research

What should parents read up on if they are serious about doing this.

Ways people can reach out to you and your business?

Those interested to connect with you – how can they go about doing so? Thanks for sharing Jason!
People / Companies / Resources Mentioned in this Episode
Episode Length 35:57
Well, not sure if Mike can convince Wendy to have Miles and Maggie skip out of school – but let's see! Claire is still cracking up about Mike's yellow fever v-log and we have a ton more shows coming in the next few weeks. And Mike really hopes you guys come out to see us at the Cross Border Summit!
Download Options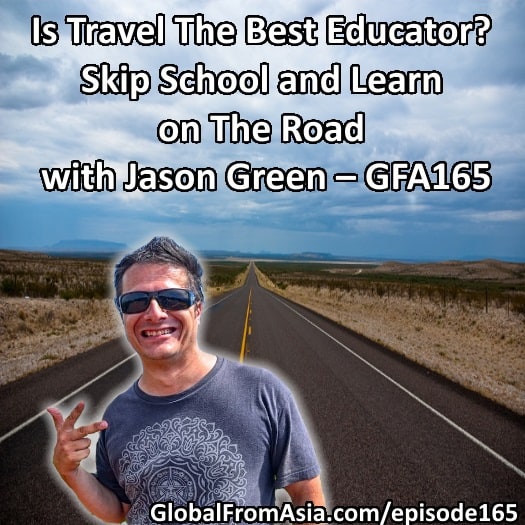 Podcast: Play in new window | Download
Subscribe: Apple Podcasts | Android | RSS