---
Welcome, welcome everyone! Number 118, and I am recording this as I plan my trip at the end of June – going to finally venture out of Asia a bit – 3 places – Thailand for my buddy Doug Pierce's wedding! I'm the best man and can't wait to share an amazing story of his coming over to Asia and meeting him, then off to Barcelona for DC BCN event, and then over to Prague to meet up Simon Payne and have some quality time with some "original gangsters of the Dynamite Circle just before July 4th. Leaving the wife and kids at home – heck, I need some time away and wife gave me the green light!
Thanks everyone for your amazing support for our first conference here at the podcast – Cross Border Summit – I've been talking to media companies all last week, That's PRD is getting us in the magazine in April, Shenzhen Party has us getting some exposure ,and friends sharing it on their Wechat groups to their email lists – thank you everyone! The event info you can find at Cross Border Summit.com
Ok – and Speaking about globe trotting, today's show is like a world wind trip – we have Rob Green from GRM Global – chatting about his firm's rapid growth
Topics Covered in this Episode
Introduce Rob

Scaling a business, a real test of an entrepreneur wouldn't you say?

Opening multiple offices, use the same company license?

How about banking, all central, or is each office on its own bank account?

How did you select the office locations?

Recruiting - your area of expertise - how do you find your own talent?

Growing a business, as many know is about finding the right people - any strategies on that, specific to Hong Kong if possible?

After attracting the talent, next is keeping them long term, how is that in Hong Kong, and what are some tips

Differences you would say growing a business here in Hong Kong than from your home country?

Tips

Tips for those looking to scale locally in Hong Kong

Contact

A bit more about your business, Ways people can get involved and do business with you , or contact you for more information?
People / Companies / Resources Mentioned in this Episode
Episode Length 35:13
Thank you Rob! He has enjoyed the podcast and it was a pleasure to ahve him on the show. Also recommending some other guests for the future shows. We have quite a few shows already recorded, but of course I always like getting listeners to reach out and suggest new topics and guests – please shoot a note over at mike @ globalfromasia.com
Ok, and now back to the hotel hunts and flights for my epic June trip. See you next week!
Download Options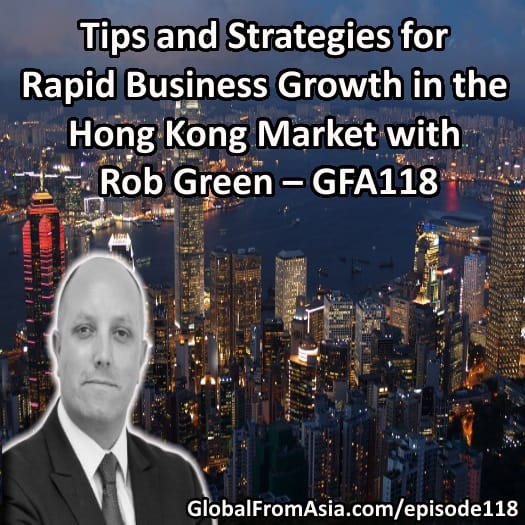 Podcast: Play in new window | Download
Subscribe: Apple Podcasts | Android | RSS