---
Hope you don't hear any Mickey Mouse in the background – Sunday night is family cartoon night, but I'm squeezing in today's welcoming for this week's show.
We have some exciting updates on the business side of things – I will be a partner in EnterChina.co – a community of entrepreneurs taking their product idea to launch with other helpful entrepreneurs, I mentioned it on my personal blog over the weekend I'll link it in the show notes.
And for those Dynamite Circle listeners, I'm hosting a meetup at the DC Barcelona event on Tuesday June 21 from 2pm to 4pm talking about Hong Kong business, if you're there – would be cool to catch – will also link it in show notes – globalfromasia.com/episode128
Alrighty – now for this week's show – we have Danny McMillan who was also a speaker at the Global Sources Smart China Sourcing Summit last month and we thought it would be cool to get him on the podcast to share his experience visiting the trade shows in China for the first time. This guy has great Amazon skills and shared a lot about PPC at the summit, but here he is sharing some fun and insightful tips on how he approached the trade show, so let's dig in
Topics Covered in this Episode
Intro Danny

First Asia trip

We both spoke at Global Sources – that was a great event. You shared on PPC for Amazon, which was amazing – but today -we will talk about your first Asia trip, right?

First Impression

So, first, what was it like when you stepped off the plane versus what you were expecting ? (for me, I will be honest, I was thinking rice fields and dirt roads jeez I was off! )

Agenda

You told me your itinerary when you were in HK still – care to share your agenda you made with listeners?

Tiring!

That is just exhausting – did you get to sleep? Or caught up on the ride back to the UK?

Research

What was the strategy / attack plan? Did you do research upfront? (if you did research upfront, care to share?)

Picking

Which phases did you pick and why ?

Trade Booths

What kind of questions did you ask the booths?

Sifting

How to get through the data

Fun

Any fun stories or shockers to share?

Transportation

How about getting from Hong Kong to Guangzhou – I know how people sometimes struggle with the transport

Passport Visa

And your China visa? Applied from the UK?

Walking

Was it an all day walk the floor, did you do any factories? any meetings off the floor ? You're a morning guy, afternoon, or evening business deal??

Out and About

Late nights drinking with suppliers? Or big dinners?

Tips for Newbies

Tips you would give others new to the trade shows in Asia

About you, Danny

Tell us a bit about your business! How can people reach out to you.
People / Companies / Resources Mentioned in this Episode
Episode Length 32:03
Thanks Danny – hope everyone enjoyed that. Thought it would be fun to have someone on the show who has experience on Amazon and e-commerce but was a first time visitor to these trade shows.
He is also down to be a speaker at our Cross Border Summit in April 2017 – so stay tuned for that epic event, can't wait.
Download Options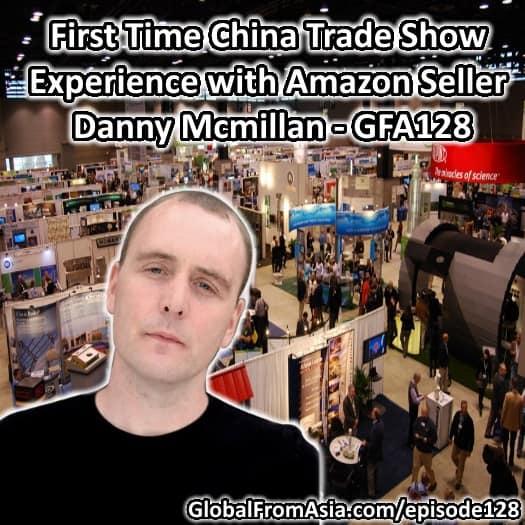 Podcast: Play in new window | Download
Subscribe: RSS