---
Episode 215 of Global From Asia interview series. We are continuing our Chinese factory interview series – which is done also in video form. I prefer the audio and I know you guys also must enjoy the audio podcast as you are listening in today! If you want to see the talking head version – as well as the factory tours on video – we are on youtube or hop on over to globalfromasia.com/tv/
Now, for today's show – we have David Wu – a second generation family factory owned business. David studied overseas and is a returnee to China. When he talked to his dad, he convinced him to invest in making their own brand – Ausdom. Somewhat of a challenge and a game in a way between father and son, seems the risk / investment of making their own brand has paid off.
In the interview David shares the story and process of making a brand from a Chinese factory
Topics Covered in this Episode
Introduce David

How did you start the brand Ausdom

What is your distribution strategy?

What are some of your hobbies?

What do you see for the future of F2C (factory to consumer)

How do you work with distributors overseas?

How can people become a distributor of Ausdom?
People / Companies / Resources Mentioned in this Episode
Episode Length 22:58
Thanks David for coming on the show and sharing! We are rocking and rolling with the English versions of these video interviews. Unfortunately – some of the interviews were in Chinese language only – so if you want to learn more about Chinese speaking Amazon sellers – you can check out our video series where we have English and Chinese subtitles.
And regards from Florida! Heading to Colombia as we prepare for this show – where we will be expanding Global From Asia for events and maybe even Spanish language content. The dream is becoming more and more real, and thanks so much for everyone listening in and getting involved.
Download Options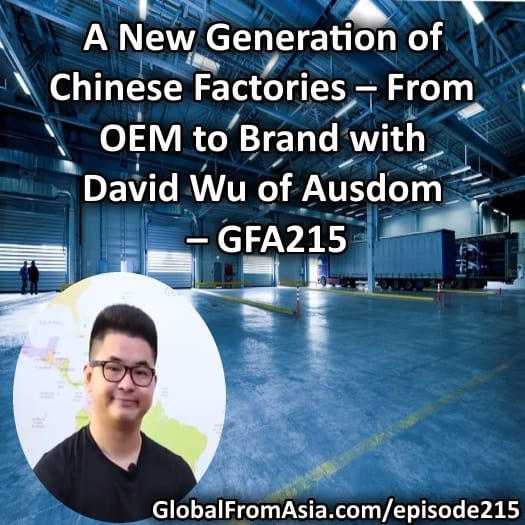 Podcast: Play in new window | Download
Subscribe: Apple Podcasts | Android | RSS