---
Welcome to this week's show, loyal listeners! Today we are trying a different format, often I get input that we talk about China and Asia business and most of the guests are foreigners. It is true – we should have more locals on the ground sharing their insights. So today, we have done just that – and brought Bryant Zhang, co-founder of Ennoplus factory. They are a manufacturer and designer of solar powered outdoor LED lights.
I am inside the factory to do this show, and discuss some insights of how they started and grew so fast. We prepared quite a bit for this and I pulled some strings to get him up on the show to speak in English so enjoy!
Today, I feel like we are doing something that isn't often done, getting insights on how a factory in China is launched, and run. Bryant is really nice guy, I have known him over the years from different circles of friends, and he supported us with our first Virtual Reality tour as well as sponsoring at the Cross border summit.
So today I want to have him come on and share his insights – as a Chinese business person – talking in English – about how it is to start, run, and grow a factory. For me even I am curious about this – we want to hear it from Chinese business people directly -not foreigners in China – so let's do this!
Topics Covered in this Episode
Introduce Bryant

Your English name comes from Kobe Bryant, your favorite basketball player very cool. What is your Chinese name, and when did you pick your English name?

How did you start the factory Ennoplus?

Leo is your co-founder and partner. How does a business like a Chinese factory get started?

You also have unique and creative designs

How do you make your own designs. Many people feel that China isn't innovative, so I'd love to hear this.

What is your role in the company

SO you have partners, and you have your skills, and they have their skills –

Challenges running a factory

From your side, but also your friends in the industry. I'm sure foreigners would love to hear this perspective.

How you decide which products to make

What is the steps to finding the right product and grow the business

Future of factories in China

What do you see as the future of manufacturing in China

How can people cooperate with Ennoplus

What are some ways listeners can cooperate and how can they reach you?
People / Companies / Resources Mentioned in this Episode
Episode Length 30:58
Thank you so much Bryant for coming on and sharing. I can only imagine how hard it is for non native English speakers to come on and share. What did you all think – get more Chinese guests on the show? It does make sense to talk to a Chinese business owner about China business rather than foreigners.
Also Bryant will be attending our second annual Cross Border Matchmaker – Friday Oct 26, 2018 in Shenzhen China! Head on over to Globalfromasia.com/matchmaker2018 to get all the details and I hope to see you there. Bryant is looking for long term partners around the world, as well as many other attendees and experts.
Download Options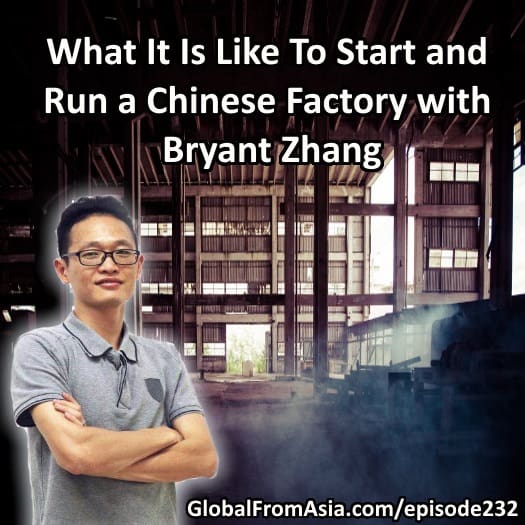 Podcast: Play in new window | Download
Subscribe: RSS