---
Happy Tuesday morning – when this show airs I will be on an airplane to Philippines – checking out on the SEO office I'm a partner of – been almost a year since I was down last and excited to see how the office has been built out – i'll get you guys updated on that in a future show.
While it will be great to get down – wish I could take my family for a holiday! They did make it down to Hong Kong with me for the Rise Conference last week – that was an intense almost week long conference! So happy Rise Conference has picked Hong Kong as their center – so many amazing startups, investors – and got to have a great happy hour with Chinaccelerator, the accelerator I went through back in 2012.
Now for this week's show – we have Nick Bartlett who I was connected to by Kieran – a quick fun story on how I met Kieran – from drop shipping bar supplies in my first e-commerce business – yes – that is right – he was in UK at the time and we set up a warehouse there and he was our first drop shipper in Europe – this is like 2010 timeframe! We met in person in Hong Kong just last week but have been in touch for years even after I sold that business. Thus the connection to Nick here.
Now Nick is finally coming on the show to share something a lot of you have been asking about – logistics! Open your notebook, and also refer to our show notes at GlobalFromAsia.com/episode129 He is breaking it down so take some good notes – and do me a favor – send him a thank you note as he prepared quite a lot for our show – now – let's get started!
Topics Covered in this Episode
About Nick

Nick Bartlett is the Sales Director of CBIP logistics solutions who focus on providing SME with targeted freight solutions for their logistics needs under their license brand InXpress. InXpress is a global technology platform specialising in express and cargo freight and brings together leading international carriers with specific focus on saving SMEs time, hassle and money. In addition to this Nicks sales force is qualified as freight consultants meaning their services expand across all different methods of shipping and advice. Nick is here today to tackle some commonly asked questions about the industry. Welcome Nick

The importance of shipments

Shipping is such an important part of a product based business – but what exactly is it. I think people generalize it. Can you give us a definition?

Deciding the shipping method

How to decide what to send by air or sea?

Defining sea container cargo

LCL, FCL

Risks of LCL shipment

I did a shipment once to Argentina, man that was a long trip. The buyer was going crazy as it had like 5 or connecting ports before it arrived to Argentina and it was sitting for a while at each port. Any way people can predict this issue before it happens? I was literally calling shipping agencies in various latin american countries for a couple weeks using Google translate to keep things smooth.

Timeframes

Some average shipping times from South China to: USA – LA – by sea USA – NY – by sea USA – LA – by air USA – NY – by air EUR – UK – by sea EUR – UK – by air

By Air

Air shipment is there 1 kind of air shipment? or I think a range of options right?

Pricing

How to calculate the price? call up brokers?

Import duties

What is it – who can help?

HTC code

Harmonized tariff code -that's just a USA thing – but your China or HK based shipper can help?

Invoice Price

Does the invoice price and the price you put on the packing slip REALLY have to match? Can you mark it as gift, heh?

When to start your shipping search

At what point in the manufacturing process should you start to look out for shipping

Using a factory's shipping

Your factory rep says they have a cheap shipping company, should you go for it?

HK Fulfillment

You have experience in fulfillment? In HK? Any companies you can share with us? Costs?

Keeping it in check

How to keep your logistics and shipment under control

Going Out of Control

When things go wrong – what are your options? lost shipments? Custom problems?

Contacting Nick

Tell us a bit about your company. how can people reach out to you?
People / Companies / Resources Mentioned in this Episode
Episode Length 40:15
Much appreciated Nick – I am sure this will be a top show on the podcast. What did everyone think? He's a hard working guy in Hong Kong a few years now and more than willing to help any of you out with your logistics and shipping questions.
Enjoy the rest of your week. As for this podcast- we did have a blog post where I shared some future ideas on shows and other activities – if you want to check that out – we have that link as well as all these show notes on GlobalFromAsia.com/ episode129
Since I'm in Philippines, and this is Global from ASIA – thought it would be fun to interview some people down there on how business is.
Download Options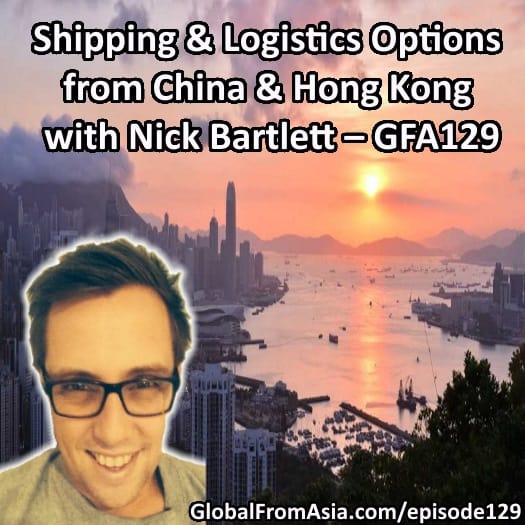 Podcast Transcription
Introduction: Welcome to the Global From Asia Podcast where the daunting process of running an international business in from Hong Kong is broken down into straight up actionable advice. And now your host, Michael Michelini!
Mike: Happy Tuesday morning, everybody. When the show goes online, I'll be on airplane to Philippines. It's been almost a year since I'm checking out the SEO office I'm a business partner of. I'm excited to see how the things have been built. I will share updates at a future episode and also, while it's so good to go down there, I wish I could take my family but they did get to Hong Kong for a couple of days from Shenzhen. We went cross border for the RISE conference last week. So that was really intense, almost a whole week long conference. We had Kasey Lau of couple episodes ago co-hosting about it and it was really amazing event, full of speeches and booths and networking. It was day and night, like non-stop. I'm still recovering from exhaustion (chuckles). My walking, my knee bend has so many steps. It was just crazy.
Okay, now for this week's show, we have Nick Bartlett, who was connected to me by Keiran. This is a funny story of Keiran. I've known him for 5 to 6 years. He was drop shipping bar supplies in our e-commerce business I did years ago. He was in the UK, we had just opened the warehouse in the UK and he found us online to be a drop shipper in Europe. It was like the first one in 2010. So we met in person in Hong Kong just last week but before that, he did connect me with Nick here for the show. So it's amazing that I'm still in touch with Keiran when we met in person finally even years after I sold the business. So, Nick's gonna come online today to share with you about what a lot of people has been asking about which is logistics. So, open your notebook and refer to our shownotes at globalfromasia.com/episode129. He's breaking things down. He's gonna give you good notes, all about different logistics, shipping – ocean, air,. I know a lot of you ask these kind of questions. So please, he did give all the information he can possibly think of or maybe consider his business. That will be awesome. So let's get started.
Alright! Thank you everybody for tuning in for another Global from Asia podcast. Today, we have Nick Bartlett, he is a Sales Director at CBIP logistics solutions. We got to meet through a common friend Keiran and caught up in Hong Kong. He specializes in providing SME with freight solutions for their logistics needs under their license brand InXpress – which is a technology platform that helps with expressing cargo shipments and other leading international carriers. So, thanks for coming on the show Nick, great to have you here!
Nick: Thank you very much for having me. It's good to join this podcast series.
Mike: Yeah, it's been fun to keep in touch with Hong Kong business and the global business. So, you're originally from New Zealand?
Nick: Yeah, I'm a New Zealander who decided to give his craft and decided to come to Hong Kong 2 years ago and we started as small trading logistics solutions business about a year ago. And now we started trading and carrying different things around the world.
Mike: Awesome! So, yeah. I'm excited for this topic. It's always something people are asking about is shipping and different logistics solutions. It's especially important for ecommerce for any product-based business – international business. So maybe it sounds- maybe you'll laugh at this question, but what is shipping? What's the definition?
Nicke: Yeah, sure. I think people think shipping is a pretty complex kind of biz, they looked at it and think there is a lot of terminology, it is a structure-based business and therefore it kinda makes it pretty complex and hard to understand. But it's really fun. It's the act of transporting goods from the shipper or the seller (inaudible). This is really the basic definition, and I think it is really cool to what it does. I think in today's world though, shipping goes to the end users from the logistics company perspectives, it's much more just of the act of transporting goods, it is much more around this technology, sort of supply chain efficiency and serve us in order to give to the end users what they are looking forward which is kinda the quickest, easiest and hassle free way whilst giving the customers or the end users that seems to be a transparency and reliability of that carrying or the act of carrying of those goods around the world. If you look at e-commerce – like you mentioned awhile ago – I think e-commerce, the basic industry such as retail, where we all participate in the development having a robust supply chain is probably more important now than it has been. So, there are some examples like use of e commerce company and retailers that do that really well. And that really shows when you dig a little bit deeper into customer experience and satisfaction and obviously, particularly fell online retailers that whole repeat purchase; if they have good shipping, supply chain in terms of shipping with you more often.
Mike: Cool. Definitely, I think another key thing is – for me – I think I went up to supply chain after shipping anything, I could buy locally in the US and then started buying from wholesalers and then from China. How do you decide, you know, air or sea or you've even mentioned in the introduction there's different types of air shipments. So, is there some kind of logic here?
Nick: I always say to the customers that you need to consider – start right from the start – what's the objective of your shipping. We always tell our clients there are 4 key questions that you could ask yourself – What's the contents of your shipment? For example, there are some contents of your shipment that you just can't send by air. Then what's the cost position or what's your budget regarding to shipping? If you have solid budget and it would be suitable for air, then I would say go air. And then, what's your respective timeline for shipping goods? If you want to do it quickly then obviously air. If you are not in a hurry, then put it into a sea cargo, no problem. And fourth question, how much these reliabilities and support in the shipping prices. Particularly, when it comes to custom clearance, help, service levels, checking and obviously, the reliability of the carriers. So, if you can answer these four questions, I think it often helps people to trigger whether or not it's a sea shipment or any other shipment. Now, my personal view is that, if you have high content, sensitive products, then you should try air shipment as much you can. There are lots of simple reasons around insurance, their reliability, the speed that you get your products, and often that traceability of that product is much easier than you set them on a cargo 3-4 weeks.
Mike: So, well I think there is cargo sea or am I wrong?
Nick: Yeah, there are cargo for the sea. I would always say sea cargo.
Mike: Going into cargo, there's LCL, I think and FCL, so that's probably some people have dealt with that if they've done any kind of sea shipments. Maybe give some people some ideas?
Nick: There are always some considerations that you need to make when you're looking from at LCL. This is LCL, which is you know, the first thing for LCL is to keep at least your inventory light, which a good thing for that. So, if you have a smaller budget or you've want to maintain the legal stock and keep it loaded. Then try to push for a LCL shipment. The problem with LCL though, is it increases your risk of potentially damage goods. For example, when you are going for a LCL situation, you are sharing your container with someone else. Now, I might have one, you might have mattress and the next person might have some form of seafood. There are a lot of things around, that fact that your shipment that is being shared with others and it can often cause a risk around dangerous objects or it could have bad smell to the containers. So, often with LCL there is a lot of risk control around when your product gets caught as well as the fact it's more liable to pack damaged, or not pack properly, or it is pack among other products that moves around.
Looking at FCL on the flipside, FCL always genuinely cheaper than LCL. And that's because it is more cost-effective to put on your business in one container. This is putting across – you have 3 different shippers in one container like LCL is. So, I would always say to people if you can afford an FCL, then you should do that. It's easier when it comes around and putting so often you get one seat price- which is much easier as well. And the other major, your products are centralized to one piece of cargo. And obviously it will be quicker when it comes to the port because they are no mocking around subdividing the container – your product and my product. So, I would always recommend FCL but then again LCL is fine but there are more risks, and a little bit more time associated with LCL when it gets into port and get it deliver to you. And obviously, a lot of boat shippers ar holding 20-40 containers, that's no problem but for the smaller shippers, and if you can partner up with someone else that is moving at the same factory or the same area in the world, try partnering up and share an LCL container. At least that way, you know the contents of the other goods are going into that container.
Mike: Got it. I think you kind of answer the question, but I think stepping back a little bit. Some people may not know it, I think it means less than container load and FCL's full container load?
Nick: Yeah, that's correct less container load and full container load. So, it leads back to your first question was that what makes this industry complex is the huge amount of terminology. And from the commodities background and have some supply background as well and often you get full conversation just on acronyms (laugh). So, when you are talking to your shippers, otherwise say speak English and make sure you know those acronyms to really understand what they meant.
Mike: Yeah, exactly. That's a huge amount of different acronyms. Speaking of the languages, which probably goes to the next question or topic. I did some crazy trades back when I was outsourcing and we had one client that had few different locations, they wanted promotional items, so all kinds of different products like T-shirts, hats and everything. And one was to Argentina, it was really nuts. It was an LCL shipment, so it definitely got mixed with other people's stuff. And then I didn't even know that it was going to all this different ports but it was the slowest boat I think it was 2 months or more, between 2-3 months I think. And client was always checking for a status update and maybe this is more of an advance question, but I guess, would you know you are going to be taking that much time, that many ports. It's just obscure location maybe, I guess if you're shipping to LA or to some of these high frequency ports, there are a lot of shipments going there and can I go directly to an airplane?
Nick: Yeah, if you are doing overseas it's much more complex. If it is much easier, things would be more direct like a local 24-hour flight coming out to New Zealand may stop to one of the Asian markets or Europe, for example. But the sea is a lot more complicated, I think it all comes down the supply chain of frequency of your shipper. It's obviously ships that you wanted to do by sea when it got full container loads and full boat load. So, it means if they go all the way down to Southern coast of China picking up 3-4 different loads, you get full boat by the time it hit South China sea, then that is what they are going to do. And often oversea leads direct correlation to time, it's obviously it's always been ambiguous around shippers in particular, around how long it takes. So, I can't give you some rough time on when things happened. But generally if you are shipping to New York or US coastlines, you're looking at 25-35 days on average shipping to the West. If by air, you are looking at between 2-5 days. And if you're at Europe, if you're looking at by sea, 23-28 on average. And 2-5 days when it comes to air. So, in terms of times, It's a game. I always recommend if you can try by air then it is much more effective in terms of getting your goods to ground and obviously getting them to the end user. And it reduces a huge amount of risk than you ship in the water for 3 weeks – but then again they don't always have control over these things. So, choosing a very solid cargo provider will allow you to have little more confidence around your shipment.
Mike: Awesome, thanks for those dates. I know people are always curious how long it takes and – I am not doing trading actively right now- I've done it for years – but air shipment, is there really one kind of air?
Nick: It's really not complex at all. It's really like you are going to a hotel, and then pay for basic. The hotel is (inaudible) and then you pay for an entry level basic room and then you may pay for suite and then you pay for deluxe and then you pay for a deluxe suite. So, shipping is kinda the same. You have what we call an international express, which is has a quick transit time. That's exactly what we do in InXpress, so we move items around the world as quickly as we can with our carriers. And also, it's a premium service and it's a convenience – so if you have goods, for example you are shipping one and you need to move – it's a sort of product that has high value – and you want to took the ground as soon as possible. After that, you have international economy plus. This is pretty generic and some industry and some of the carriers refer to it differently, but this is one they go down from express and you are looking down at 2-5 days on that. And that would be sort of slightly slower than express but still pretty quick relatively. For example, a lot of ecommerce companies (inaudible) they are looking at around economy plus. And obviously the next is, which is the international slower economy we call it, 10 days and there is international price. And so some points to remember that, ports is obviously the smallest and kind of have traditional channel shippings around the world. If you are looking for moving goods quickly, particularly if you are an online retailer, be sure to look at the carrier and look at the time of which the products move across the transit zones that you're shipping to. So, if you are shipping out to Asia for example, Hong Kong to Australia, that's sort of around 1-2 days from departure to the end user.
Mike: Got it, interesting. I like the idea of like getting to a hotel, maybe you just want a different upgrades.
Nick: Exactly, and the price correlates itself naturally. If you pay for the convenience and the convenience is what cost you. If you want something at the end of the day, you pay for it.
Mike: So, I am going into prices. I am sure people are always overwhelmed with how to get the price. Do they call to a different brokers and then there's also – I think I've been convince it's true – it is cheaper to use a middleman or agent rather than a carrier directly cause they got bulk rate and they can usually give you cheaper price. Is there any insights here?
Nick: Yeah of course. So, InXpress we are freight consolidated on a bulk buying basis and we pass it to our carriers and we just live by all the arbitrage between the difference. That's what brokers really do well. Because I can't consolidate and then to the shippers. But there are lots of different ways, you can go directly to the carriers. You can go find an agent, you can go through an online consolidator where you don't have no relationship or anything you just logged on and get the rights. But there can be a huge degree of variations across of different carriers and can be a lot of costs among the small carriers that actually, you know in the surface appears to be the cheapest but when you hit the bill, you get an XYZ in addition to the base price that they quoted you at the start. So, there are some core factors you should look at when looking at shipping. And it's very hard to compete on a like to like basis because carriers often give different criteria for different (inaudible). But try to see at least see the price and accord the dimensions around package size – package wide by dimension and that's usually in centimeter or inches. Departing country, destination country, any tracking service that associate with it and then insurance. Obviously insurance is taken often by the shipper. As well as see the shipper if they are in liability insurance as well.
Always exclude fill, as fill is a fixed cost in terms to what goes on to the shipping and that often ranges between 5 to 15% and fill pricing is pretty standard across these industries, it is goes in line with the international prices. There are prices that have really low price. And then there can be other cost of course, such as the size of the package particularly on air, where it's measured on the lengths, the width and the height. You have to be aware if you are shipping something that is deemed to be oversized and the needs of obviously of dangerous goods, which you need to be aware, other costs like that that can add to your cost. So, of course you can go the carrier yourself, but the problem of going to carrier yourself particularly, they would just give you a flat rate with the role of the agent or a broker comes in, provides a consolidated view and he is able to give that (inaudible) rate to you. As well as give you, on top of that, the service and understanding and perhaps gives you a slightly different perspective on your shipping solution. Our focus is not just around rates, it's around giving the clients what's the basic methodology of the start of shipping you need to do to make sure the clients really just give more ready not just the price but particularly calling a carrier directly will give you a shelf price. Unless you ship a big volume, the carriers are that interested.
Mike: That's good for you so you can spread that savings off to the smaller guys.
Nick: Yeah, that's exactly why we have business. InXpress is just over 2 years and we've proven that we can make a real difference in these shippers by giving them much more value and not having to deal with the carriers and the hassle and obviously the technology platform to which means that I can automatically ship shipments pretty easily.
Mike: Another thing, I think people are confused about is, import broker is a different company or person than a shipper?
Nick: Yeah, it just comes down to whether or not the company is credibility is it. There are independent brokers, of course but there are some good online providers particularly small companies, these are good site (inaudible site) it is a global freight solutions company and they provide freight solutions. You can go there and you can get a very accurate duty. In InXpress, we do provide a support on that as best as we can but obviously sometimes there is (inaudible) and also how people classify goods, which can be confusing.
Mike: I was thinking of a keyword HTC, so that's a US thing or is that an import duty that pops up when somebody is shipping into the US?
Nick: It is not actually just limited to the US areas, HTC is a tariff code, which is just like the periodic table of shipping. There are different codes for different types of products in classification of products that you're shipping. And actually the system used right across the world. If you have a package for example which you need to file what the contents are, you just go the HTC. Type in your respective contents of your goods, like for example, if it's a book and then you look at the HTC code and you need to encode that to your packing system. So, it's kinda like the idea when you are going to lots of different customs, I can correlate HTC as a universal understanding of what a content description is.
As freight consultant, what we were able to do is to provide pretty accurate HTC codes for people, HTC is actually built in our platforms that means when you are building a backing list on the system you can actually do that as you go and be as accurate as you can because we've seen first hand a lot of clients haven't declared things properly they have stung at the other ring when it comes to the duty bill particularly for the likes of ecommerce shippers that try to get around. But that is really important to get that classification right. And other news, recenly the US – regarding the US- they increased the minimum which is into the US is $200-800, so anything under $800 is not subject to a tariff duty. That is really good news for people shipping into the US as well. It started $200, now they've a bit to $800 so you can thank the Obama administration for that one.
Mike: Finally something good. Going kinda funny into my next question, they want to change the pricing on their packing. They buy it for a dollar but they want to say they bought it for 50 cents, they are trying to minimize the total. I think that is a risky thing, probably a stupid thing. But maybe people still think about that..
Nick: I probably shouldn't call them on what they declare on their packing slip regarding of the cost of things but from shipping internationally and if you are shipping frequently, I would always say just be sure the duty and classifications of those markets. There is something we can help in terms of like you declare something like sort of a gift and you're a frequent shipper, it is very likely that the custom jurisdictions would probably pack you up for that and you would probably became a reckless shipper which means they can sometimes hold your product for a long time or they might even -worst case scenario – send it back to you. I would always say play by the rules but be creative you can be.
Mike: All right, I like that answer. So, how much time should somebody give to finding the right place to ship so, maybe I placed an order at the factory, the factory says it will be 2 weeks or maybe more than a month. When should I start dialling like people like you up?
Nick: Personally, if you got are a manufacturing or you got the development of the product somewhere in the world, I would always say don't wait. I think the supply chain component is just as important as the development of your product. Because at the end of the day, if you can't get your product to the end users within the right suitable amount of time or commitment that you give to your end market, I think that puts you on a edge. I would always say start as soon as you are starting. Obviously, when you're working at a manufacturer, start looking at your supply chain particularly give a bit of a push to the ecommerce providers out there. So don't think that, hey we are manufacturing a great product, we are going to sell it on Amazon or we are going to sell it on our platform, and then we flick it out. Flicking it out is the hardest part particularly all the ambiguity around cost jurisdiction that may be coming into customs to finding the right carrier. So to really give yourself enough time and obviously dial up as many different carriers as you can and really try and learn how the industry works and you get different range and different answers and try to find some really trustworthy carriers and reputable carriers as well and it might cost a little bit more but it is much more dealing with those larger and trusted brands, particularly when you are trying to get your product to the market as quickly and as safely as possible.
Mike: So, at factory, a lot of times offers their contacts. Is there any dangers here?
Nick: I think, like you need good business, they are looking at otherwise they can secure some income, right? The shipping represents another income to do that. So they kind of some broker themselves consolidate all the manufacturing volume and suck it out right. So, look from their perspectives I can't understand why they do it. But be careful not to get stuck to a manufacturer that will only let you ship through them. I think it's important to have flexibility and choice to where you want to move your end product. Of course, if you are dealing with a trusted, reputable company, and the shipping they have no historical issue to their shippers then I think that's worth considering. But I think if you look at it in another view – sort of the buyer's view. If the buyer's knew you are dealing someone that is not as credible or as trusted and there is more likelihood that your buyer's product have gone missing then maybe you need to be careful around how you managed that component. And again, speaking of the brokers and agents who don't really have the infrastructure investments themselves, therefore they are the least buyers because we are not really focused on optimization, we are more interested on trying to find the right solutions for people as maybe a good place to start but get lots of rates, compare compare compare and try to learn as much data as you can, until you make a decision.
Mike: Got it. I think there is nothing wrong when you make a little kick back..
Nick: Absolutely not. It's completely fine as long as there is no risk and trusted. I think it's the most important thing.
Mike: So, I just had a call with somebody a couple of days ago. He is trying to keep more of his product on the Asian side, rather than just LCL or FCL right over to the US to ship. So, have you experienced some fulfillment, you know in Asia or Hong Kong?
Nick: Yeah, fulfillment and ecommerce are two used in logistics, there is no doubt about there. I mean it's good example of numbers and Hong Kong based start ups that are focusing on this area. It has particularly popular as companies work on ecommerce who don't want to go out and linked to a warehouse-based themselves which can be a pretty big cost burden. So, this idea of bulk collection is something we do and we do have experience and we caught a few clients that are looking at different fulfillment opportunities. The idea really is that, goods are transported bulk to Hong Kong and then goods to warehouse and dispatched via the InXpress platform. I would say for fulfillment, always use, or look for internationally recognized companies and also local companies that have credibility. Cause we have a strong carriers, particularly if you are warehousing lots of different products going to lots of different parts of the world. The cost associated with ecommerce, generally are done in bulk collection, warehousing or storage and then the cost of shipping itself. So generally what you get the end of that, you kind of get a per unit type rate which you can reapply back to your whole sort of supply chain, like when you are manufacturing and you're marking cost right on what the customer pays as well. So pretty important to remember that, it is more cost effective. Ecommerce has become increasingly popular, but then again there are lots of choices around carriers and providers out there. And the rates and methodology around the pricing is a little bit confusing, it can be a little bit confusing. Because it is obviously complex kind of idea that you are warehousing in one single warehouse. You might have a hundred thousands different products and therefore products are different so you can start to get on you the complication around in calculating how much is one particular product and how much time does it take to pack and ways that is being shipped to. So, just be mindful of the methodology or rates and the credibility of the company and the fulfillment warehouse if you're looking at something that we can definitely helped them to.
Mike: Okay, got it. And keeping things in control, is my next kind of question. Sometimes, people are talking about buying things from a factory, they say they check in regularly. I guess for air shipments for 2-3 days, there is not much checking in. But how often should they check in with their shipping status or make sure things are on time or under control.
Nick : Generally, there are 3 key areas to control. I mean obviously, the obvious one is around transparency tracking. If you can see the product and it also kind of help you sleep at night. For those in the manufacturing maybe teamed up a hundred thousand units or something, traceable is pretty important. But I think dealing with people that have strong inventory management system is pretty important. So when you are looking at the side of keeping control of stocks in your warehouse that is sitting with someone else's. But you have full traceability and transparency of the inventory you got on hand. You know aligned yourself with a reputable company, it goes back to dealing with credible carriers that you have experience and also they might not be the cheapest but they always dealt well. I think another thing of control, is make sure that you have points of contact within the company, that you can go to in case you have concerns or questions or issues about your shipment. If you look at having good contacts and place where you can check your product even if you don't have necessarily a tracking tool. Having an account manager or a representative that you can trust, that can give you an update as well as also helps around keeping yourself calm that always help as well.
Mike: Got it, cool. I don't if you want to share some scary stories or maybe something people can learn from, or somebody have heard that didn't do things correctly or could done things better?
Nick: Yes, the worst stories that I hear are people that don't declare custom duty quickly. That tends to be the worse. I mean, obviously there is something the obvious things like something goes missing right. But generally carriers always take responsibility if it's in their hands then generally it's the responsibility on their side. So you've got the idea that they should have the liability insurance covers those things. Again, dealing with reputable companies helps because they don't want an upset client and they will do everything they can in these situations. I have seen clients lose their product or product are missing. Of course, it gets the area but the wrong package, it's someone else's package. That can happen. I would probably say the worst I've heard is client's declared goods and things done with some 15 thousand pounds type bills, they tried to get around the system. And so like I said, you need to be follow the rules and be creative then you can be rather than rob and just straight up not declaring things correctly because things can backfire pretty quickly and stocks get held in customs until bills are paid. And obviously end users don't get what they want. So yeah, bigger things like losing things, I've worked in 2 years with 1 or 2 issues with products that haven't subsequently been found and obviously I will provide support around that whole declaration component as well. But if you are dealing with a smaller company that don't have the results and product go missing then generally they might say, "I'm sorry, can't do much."
Mike: Scary..
Nick: And having your own company insurance is obviously really important to so if you are shipping lots of goods, make sure to have insurance of that as well. Even if you are a small ecommerce retailer.
Mike: I don't want to end in a negative. I want some positive like how long does this things get lost. You said carriers are pretty good. I mean, how does the process work to get some money back?
Nick: For example, in Hong Kong, LGL is one of our biggest carriers and if the product go missing they come to us because obviously, we represent the client. And then one of our sales guys will manage, escalate the issue to our respective counterparts. That being goes to an investigation. The great thing about larger carriers they have very good technology through the whole process of booking, collection and once it in the airs, once it gets down. Generally, for products that gone missing, it is very quick to find out where it gone missing to. So for example, the shipment that went out last week that needs to be going to Paris, somehow ended in London. Obviously didn't land in the port that it was meant to and land in the timezone it was meant to, it's committed time, the transit time. So the product was quickly investigated, realized it was in London, it was in the first flight to Paris as quick as that really. I think it was sort of some 3 hours for the investigation thing. So pretty quick. Obviously can't be more complicated than that, but the first go straight to the carrier, escalate the issue. Always quote the reference if this is on the bill number or invoice number or the shipment number, quote that and hopefully the carrier will move as quick as it can. From my experience it was really quick, for the carriers that we worked across these part of the world.
Mike: I've heard of some Chinese carriers, I won't mentioned, that have been on people want to burn their place down. It can get rough.
Nick: I always say if people go – what feels right, is probably right. In terms of if you don't do diligence in the procurement of your supply that you are carrying with then it's not necessarily all about bottom line numbers, it's with those situations would they do the right thing.
Mike: Nick has been very helpful and I appreciate your time, it's been great. How can people reach out to you and your business? Maybe a little bit more about what you guys do.
Nick: Yeah sure. Look, anyone who is interested in having a chat, if it's a Hong kong based or whatever, you can reach out. You can reach me on my email nick.bartlett@inxpress.com or you can find us at hk.inxpress.com. InXpress is a global company that's been on, in the UK since '99. We've only been to Asia for the last 2 years. We worked for a number of different carriers, most noticeably, DHL, where we have an exclusive agreement where we can provide that buying idea and consolidation of those rights and pass those rights to customers. Our proposition is very simple. It's saving customers time, money and hassle. We have a very good technology products that allows us to be connected directly to the carriers and customers can simply logged on their respective shipments for the day. And then those are all connected directly to the carriers, and carriers come and collect. So which is great. And our focus is very much around these, we want to try to make a difference to this in these companies that out of these part of the world. And obviously, on top of that, we can provide some consultancy service to around helping you with the basic methodology for shipping and connect you with some of the world's leading carriers.
Mike: Great, awesome Nick. So, thank you so much for coming out. We'll speak soon.
Thank you, Nick, for coming and sharing so openly. What do you guys think? I know a lot of you feel like a logistic topic and he's a hardworking guy in Hong Kong for many years now. And if you're willing to talk to him and help you out with any questions you might have, also maybe consider using his business. I just think Nick is awesome, you should consider it. So, enjoy the rest of your week. I'm gonna get back to breakfast with my family here and we're head off to Philippines and I did make a blog post about some ideas for future episodes for podcasts and blogs and other activities. Just kind of brainstorming ideas. If you wanna check that out, we have a link to it in globalfromasia.com/episode129 and also, I'm gonna do some topic on Philippines and maybe the other parts of Asia in the future. I hope you guys like that. I always appreciate feedback and ideas for future shows and without further adieu, enjoy the rest of your day!
To get more info on running an international business via Hong Kong, please visit our website at www.globalfromasia.com. Also, be sure to subscribe to our iTunes feed. Thanks for tuning in!
Podcast: Play in new window | Download
Subscribe: RSS