---
There is so much happening in the world at the moment that has affected everyone not only in the Cross Border e-commerce industry that it is almost a hassle deciding what topic to talk about. But this one today will keep you on the edge of your seat as we listen to Zack Franklin – a regular on the show and a really good friend of mine share his horrible experience with the whole Coronavirus nightmare and how he ended up stuck outside of China. Let's tune in.
Topics Covered in this Episode
Background on how Zack bounced from China to Bangkok last month

Seeing everyone in masks, he took the next flight to BKK

Why he had to go back to China

His apartment lease was ending March 15, 2020 – and he had all his stuff in there to move out.

Picking up Bangkok Taco Bell First

Had to grab some Tacos before going to China (China I don't think has Taco Bell?)

Experience Landing in China

Being scanned for temperature 15+ times in the airport alone

Taxi Ride from the Airport

Can't even see the driver as he is in a big plastic bubble.

Issue Entering his apartment Complex

The guards have a strict policy

Not being able to go to a hotel

Or else also getting a 14 day quarantine there.

Realizing: China is at WAR with the Coronavirus

They will not make any exceptions, it is them vs this virus spreading.

The hard decision

Stay, go, get locked in an apartment for 14 days when the lease ends less than that.

Directing his girlfriend to help find his important stuff

Since he can't enter the apartment – he asks Cherish to go inside and grab his most valuable possessions.

Ripped off Flying Back to Bangkok

Flight prices sky high going back to Thailand

Issues re-entering Thailand immigration

Visa issues, China entry issues, nightmare.

Recommendations for those going into China now

Basically – don't. He says they are not clear on foreign policy entering the country and it is not standardized and no English documentation or mobile Mini apps , etc

Reaching Zack

How to connect with Zack.
People / Companies / Resources Mentioned in this Episode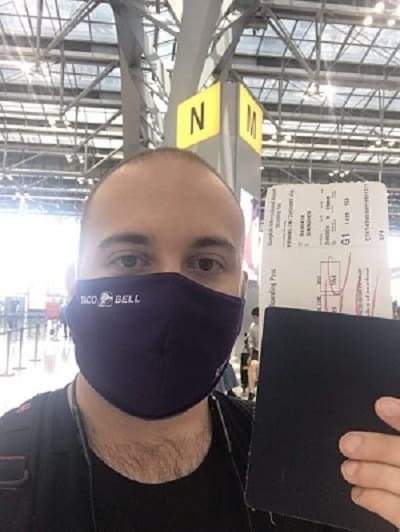 Episode Length 38:57
Thanks for sharing your Zack, on the ground, real time experience and we got to follow along. He always puts global information high on his list and we appreciate it with his lack of sleep and everything. This is what our podcast is all about, helping share these updates.
Download Options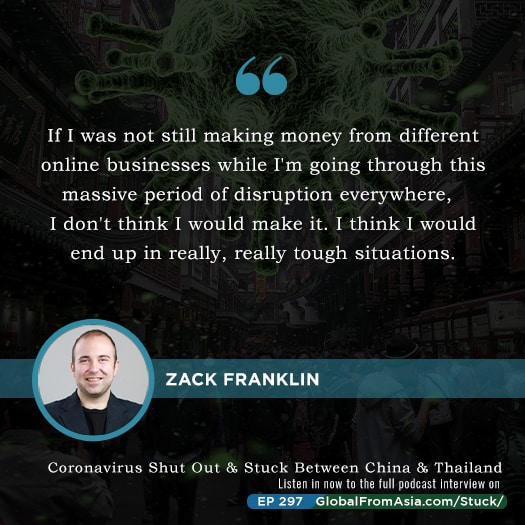 Podcast: Play in new window | Download
Subscribe: Apple Podcasts | Android | RSS