---
This week's show we have Carlos Alvarez with us, I was fortunate to have met him in Miami at one of his Wizards of Amazon meetups back in 2017. He is a true entrepreneur, doing a million and one things (sounds like me a bit, but he's even bigger in scale!) and a pleasure to have on today's show.
So much we can talk about, he has an amazing podcast of his own you should check out – and today we are covering being CREATIVE – and not following the cookie cutter way of doing business, but instead actually taking unique ways to launch your product, to get reviews, and why events are essential.
Topics Covered in this Episode
Intro Carlos!

The Wizard of Amazon, and the go-to guy in Miami, how are you today? Can you introduce yourself to our listeners?

Events, you are an events master

You are doing events, like weekly in Miami now? And have brought tons of people to the Canton Fair each year.

The state of Amazon FBA and e-commerce in general in 2020

Is it "too late" to sell on Amazon? People have been saying that since 2014, lol.

But we do need to be more creative, as discussed in today's show.

Back in the "good old days" you could launch a new product, do giveaways, get reviews, and sales will come. Now, we need to be creative, right?

Product launching in 2020

What are the strategies, and the THOUGHT process behind launching a new product in this new decade?

And the game, the hustle - getting product reviews

How can we get reviews nowadays? Seems like we are a bunch of beggars hunting for a review

More of your journey

How you went through it all.

How can people find you online?

Thank you for sharing!
People / Companies / Resources Mentioned in this Episode
Episode Length 38:54
Thank you so much for sharing Carlos. Also if we can chat about getting you involved in CrossBorderSummit.com/thailand Nov 19-20, 2020 this year in Chiang Mai that would be amazing, let's discuss if its possible.
Download Options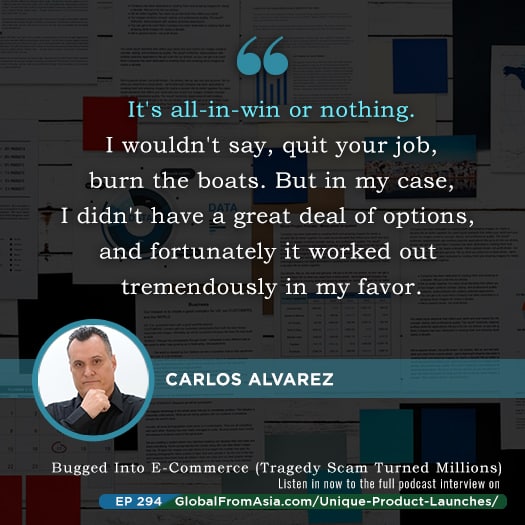 Podcast: Play in new window | Download
Subscribe: Apple Podcasts | Android | RSS