---
We are getting so close to the Cross Border Summit. Three months away or so and we will be opening up tickets to early birds soon. So if you're on our email list, you'll be getting that later this week and if you are member GFA VIP, you will be getting even more amazing opportunities.
This week, we have a pretty interesting interview. I was at the rise conference. It's one of the biggest startup conferences in Asia, or if not the biggest. We brought for you a pretty amazing entrepreneur who has travelled around the world actually ended up in New York for a few years found her passion and design and made a software startup to help e-commerce companies using AI to create all this content or social media or even e-commerce content for their multiple channels. I hope you guys enjoy episode 262 of Global From Asia.
Topics Covered in this Episode
Intro Jennifer

Originally from Taiwan, but a globe trotter and spent time in NYC, can you share your journey?

Negative Experience in UK

Some cultural issues experienced while in UK

Finding Her Design Way in New York City

The time in New York, SVA, finding her partner

Looking for Funding / Investment

Jennifer's journey to take her startup to the next level.

Opportunity in Taiwan

How she and her co-founder got the chance to move to Taiwan from NYC

Coworking and Accelerators in Taiwan

Her experience going through an accelerator program and coworking in Taipei

How her startup, Dipp, works

A brief overview

Example for our coffee products

Let's discuss how it works for Sisitano

How people can find you

Where people can find more about you and your software company
People / Companies / Resources Mentioned in this Episode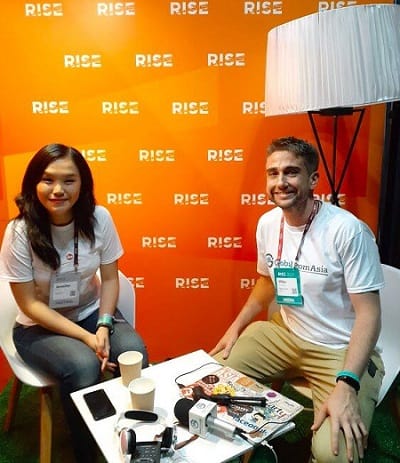 Video Demo of Jennifer (coming soon)
Episode Length 42:28
All right, thank you so much Jennifer it's been a pleasure to have you on the show.
Download Options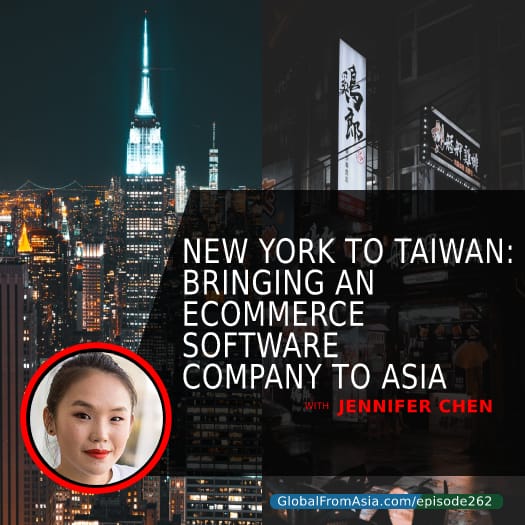 Listen in Youtube
Show Transcript
gfa262
Global From Asia episode 262 talking about New York to Taiwan while we're in Hong Kong welcome to the Global From Asia podcast where the daunting process of running an international business is broken down into straight-up actionable advice and now your host Michael Michelini. Greetings from a pretty sweet hotel in Ningbo
[00:00:27] City and Zhejiang Province in China and I am on a road again. This podcast keeps me on the road. I hope everybody's having a super week. It's right smack-dab in the middle of the summer at least depending on what you define summer, but July seems like a middle of the summer kind of month, and we're in the middle of July.
[00:00:50] We are getting so close to the Cross Border Summit. I mean, three months away or so and we will be opening up tickets to early birds soon. So if you're on our email list, you'll be getting that later this week. And if you are a member of GFA VIP, you will be getting even more amazing opportunities. So just keep on adding, in motion pushing it forward.
[00:01:16] This week, we have a pretty interesting interview. I was at the Rise Conference. It's one of the biggest startup conferences in Asia, or if not the biggest. Fourth year.  I believe. Been to most of them here at GFA and we brought for you a pretty amazing entrepreneur. She's got a lot of energy.
[00:01:37] She's really enthused and it's relevant. I mean she was, she's from Taiwan. Came back to, came to New York. She travelled all around the world, actually ended up in New York for a few years. Found her passion. And, designed and made a software startup to help e-commerce companies using AI to create all this content or social media or even e-commerce content for their multiple channels.
[00:02:05] It's a pretty smart little tool and we, before we get into the tool, we talked about her, her story and her journey, of course coming back to Asia. And, we met in Hong Kong and it was pretty interesting call, conversations, excuse me. I had the media pass so I can get into the media booth. A lot of, you know, a lot of gear here
[00:02:26] I'm carrying around and ran out of battery in the middle. But I, you know, had a backup solution. So I think it's a pretty, pretty amazing interview. I hope you guys enjoy episode 262 of Global From Asia. I'll sneak in a little blah blah blah. Some things I learned at the Rise Conference and a little shout out to amazing people that helped out covering the event for Global, Global From Asia, Lorenzo Lucian.
[00:02:53] We had amazing people, Francisco. We had Ivy. You'll be seeing articles from them. If you want to check out our contributions about what we saw at the Rise Conference, it's at globalfromasia.com/rise-conference. It's a whole little mini site there. We're building out amazing content as always here at Global From Asia. And, I hope you enjoy and now let's tune into this interview.
[00:03:16] I also snuck a little photo with her at the media interview area. Try to put some stuff on the show notes if you want to see that as well as the full transcription. We mentioned the video, I did do a demo video with her. But, I'm on the road and internet sucks. I don't think I'll be able to get it to Alvin to edit in time for this Tuesday's show but stay tuned.
[00:03:39] It will be coming out on our Global From Asia Video content. Let's roll. Let's go into interview 262. Do you need to make micro payments or small payments to suppliers? I was talking to a friend and he said hey Mike, do you know of cheaper way that me wiring small bits of money to factories in China for the small orders like buying from Yiwu market and buying from these other places.
[00:04:05] I have small contract, small cont-, contractor projects to pay. I don't want to keep paying wiring fees for five hundred, two hundred, three hundred, eight hundred dollars. And, I was like definitely check out Global From Asia's ongoing sponsor goremit.hk. These guys have been supporting the show and I'm also been using them for years.
[00:04:23] You can fund the account from your Hong Kong bank to their Hong Kong bank. Pay domestic fee for that and top up as much as you seem suitable to use. And, then make payments to Mainland China, Philippines for your VA, your online team; Thailand for your rent like me and other places around the world. I hope you can check them out to tell them GFA sent you. They're awesome.
[00:04:54] All right. Thank you for tuning in our Global From Asia podcast. We're here in the Rise Conference in Hong Kong 2019. So as some of our listeners know I like to kind of scope out startups and while there's not too much e-commerce and it's mostly like, you know, SAS companies and others. Today, I stopped by my friends at Startup Stadium and Holly introduced me to one of our, one of our startups, Jennifer.
[00:05:19] Hi guys. Hey, so we got a we got some story. I think it's gonna be good. It's gonna be little bit educational, a little bit like your story. Yeah. So, you know, Holly's like, oh, here's Jennifer Chen from DIPP. So you're you're a Taiwanese a born, you know, what in China they call it Hǎiguī.
[00:05:39] You know what I mean? Yes. Yes. Yes. I. Sea turtle yeah. Yeah, so you're kind of a Sea Turtle. Alright, and yeah for sure so she's she was born in Taiwan. Later, went to a, later maybe explain. But she was in New York for a few years, but came back, when? Just recently? Last year March 2018. March 2018. Yeah, and and then but you seem like Australia, UK, US, you want to give us a little bit of your
[00:06:07] Background. Of course. So thank you Mike for having me on the show. I'm Jen, co-founder and CEO of DIPP. And, we're a SAS platform that specifically help consumer retail brands do better digital marketing design. And like Mike said I was originally born in Taiwan. And I lived in Taiwan for until I was about 12 years old and then I moved to Australia.
[00:06:38] I was in Australia for middle school and it was just me like my parents didn't move with me. My parents have always been in Taiwan and China. It was just my, I guess adventures. Wow, at 12. At 12. Wow, that's hardcore man. Ridiculous. I think that would still be considered running away from home in the US.
[00:07:01] Right? So a lot of my friends said like were you a bad child? Yeah. Did you misbehave? Is that why they sent you to a boarding school? But like, you know, I think for, for better education and for just overall a better variety during your schooling period. Okay. Was the reason why they sent my brother and I abroad.
[00:07:27] Okay. And after sixth grade, I moved to Australia and I spent about three years there. It was always my dream to go to either Oxford or Cambridge in the UK for University. All right. I didn't know what I wanted to study then. I just wanted to go to either one of them probably because my godfather was British and that's why I like, we always got the school, British school brochures.
[00:07:55] And at that time, I think I was in 9th grade and I thought it would be, it would probably make more sense if I, or, to move to a British high school and apply for a British University. So I just packed my bags and found a school and moved to the UK. Wow. Yeah, it was a small town just outside of Bath in the southwest of the, the Southwest England. And,
[00:08:27] I hated it. All right. All right there you go. Yeah, I guess it doesn't always work. Even though you're just like moving from one school to another, it was a, it was very different. Not sure why, but probably because Melbourne and Australia was still a big city and people were friendly. I think it, UK people were still plenty friendly, but
[00:08:51] Somehow I just didn't quite like the vibe. Maybe it was the. I think maybe it's a smaller, you know, I think maybe London. I've been to London for a month or so and I think maybe it's not as International where you worried, or seem like a smaller, you said, smaller place. Maybe, I always remember that like because under the British education, we have
[00:09:13] AS level and A level that's basically the exam you took in your junior year of high school and a senior year of high school. And, both of these scores combined would decide whether or not you can get into the colleges or universities you apply for. And, I study Math, Art, Economics and French. Mmm. And,
[00:09:37] Because everybody, you only have to study four subjects. Any, anyone can pick any four which means that like you would have big math classes and very small art classes. And, I was the only Asian in the art class. And, I always remembered that the teacher was saying that like, like, why would you take art, you know, Asian people don't take art.
[00:09:58] Another thing that completely defeated the purpose of my mother moving me abroad for a supposedly more diversed education, you know? Yeah. So I guess like, that was, that was why I was like, you know, I don't think this is for me. And, at that time I finally decided that I, you know, advertising and graphic design was what I wanted to do.
[00:10:23] Awesome. And I think there is no better place than New York City there to study design. So at the age of 17, couldn't even wait till I graduated University, I already took my SAT. And, I went to, I moved to New York and study my, started my college life. Okay. Yeah, where, where, where did you study? School of Visual Arts.
[00:10:48] Oh. It's in New York City. Yeah. I know. Yeah, I like weird, saying before the interview. I spent about five years on Wall Street while, I worked on Wall Street, but I lived in like Lower East Side. I lived in Murray Hill, a couple different places, started my eBay business. For the listeners that follow along but awesome. SVA and then, and then five years in New York? Four years of school, eight years of working.
[00:11:14] Okay. So 12 years in total being a New Yorker. You know, 17 to 28 and more that basically turn me into a New Yorker. I know, I feel, I can feel the New York in you. Awesome. But yeah. Yeah, I think you would agree or seems like New York is still my favorite city. I mean Hong Kong's cool.
[00:11:36] I don't, I actually haven't been to Taipei or Taiwan. But I think it's hard to beat the New York, the hustle and. The hustle, the, the attitude, the activity. I have so many stories. Yeah, but it makes you tough like especially 12. I spent at least five years, but you, were 12 and it's it's in a vibrant.
[00:11:58] City for sure. And, it was a fun time but towards closer to 20s end of 2017. We decided to start our company and at that time it was just an idea stage. So we did a lot of pitching competitions. And, because I was born in Taiwan, so I tried to like, I tried to understand what the startup ecosystem is like both in in the States as well as in Asia. In the states obviously everybody knows about Silicon Valley, but in New York City, it's actually not very
[00:12:42] Early, early stage startup friendly, you know like investors would come in at series BC at a much later stage. So for me, I was finding it a little difficult. Okay. To find that first money and also New York City is, the expenses is on a whole other level. I totally understand that. That's kind of my story. Was Wall Street, five years save money, sold on eBay.
[00:13:09] And then one full time online seller. And, I was like, I can't stay in New York. Like seriously. Yeah. Yeah, it's hard. Yeah, so just like one opportunity, I came to Taiwan. And, I did one of the Taiwanese government programs which was Global startup talents. Okay. At Taipei, so their entire initiative was to.
[00:13:34] Impact foreign startups to invest into Taiwan and that could be just set up your company, hire people, build your R&D team, Etc. And you know, when I first started I was already hiring Engineers from Israel Belarus India Philippines. There were, there were more talents in those regions. And, I thought you know.
[00:14:02] Like they all say that Taiwan has good engineering talent. It's my own country. Like why I'm not why am I not giving it a try? So I decided to apply to one of the startup accelerators in Taiwan called AppWorks. And, told myself that if we got in, and at that time it was just my co-founder and I. He still has his full time, his full-time job then, so it was really just me.
[00:14:31] But when we got in we ,we're both moved to Taiwan. Nice. So you're both from, both from New York? Yes, so we met at University and started the company in 2017 while we actually both worked in different advertising agencies. And, we got in, quit our job, moved to Taipei. Was lucky enough to close one round of VC funding in Singapore. Congrats, and we've been in Taipei ever since for the last 18 months. Great.
[00:15:07] So it's good to be back? Yes. Yes. I think it's very different. Small things right, like setting up a bank account, it's very, very easy in New York City. It's very, very difficult in Taipei or Taiwan. It seems like everywhere, everywhere else. I don't know what it is. But definitely in Hong Kong and other parts of Asia as banking has gotten really hard the last few years we've been yeah. But, but maybe it's more and more protection, more security for the banks.
[00:15:39] I think the, the reason to, the public reason I think is they think startups are money laundering or we're going to like investors invest and then they get money out. I've heard in or we're not stable as a start-up because we come and go or we're not profitable to the comp-, to the bank because we don't, we don't make, we don't have so much money in the bank.
[00:15:59] We don't have a lot of products. I'd sometimes tell listeners, buy the insurance. I don't know about Taiwan, but in Hong Kong if you buy the insurance, they'll like, pay more attention to your or because they make money on the insurance. So sometimes it's a little tip for some people. But, but so 18 months and then we met at the Startup Stadium aren't you part of, actually I don't really fully understand.
[00:16:24] I know it's a it's a space? It's a it's a program? It's a program. It's almost like an incubator but with a membership system so they don't run in cohorts but in membership. So once you get accepted, once you pass their interview process, you're in it. And, they're different they do various programs such as investor-matching or maybe mentor-matching or one of these programs, right?
[00:17:00] You can pitch as a start-up. It's a one minute pitch without slides. Okay. And the selected startups can basically be a part of these conferences. Okay. So this year there were 15 startups selected out of, I think, over hundreds of startups who pitched and 5 went to Collision in Canada. 5 went to Techsauce in Bangkok and five are here in Hong Kong for Rise.
[00:17:31] Nice. Yeah. So, you're one of the five. Yes. Thank you. So I'm ah, maybe I should, I skipped ahead a little bit. So, AppWorks. And then how did, how was that or how did that go or is that still happening? Yes. So app works is one of the biggest startup accelerator in Greater Southeast Asia. So that's Southeast Asia plus Hong Kong and Taiwan.
[00:17:54] Okay, and it's I think at this point they have over 800 startup companies because they're in their eighth year. And they run two cohorts every year. Yeah, so it's a no funding but no equity taken type of program that runs for six months with the biggest demo day that any startup Founders can hope for well in Taipei. And, you really get exposure from investors, media.
[00:18:33] Different corporate corporations that can potentially do partner do pilots with the startup companies and it's great like for us we first reach out to TSS back when we were still in New York. And TSS is? Taiwan Startup Stadium. Got it. Yeah. And we needed them to help us soft land in Taiwan and with the help of Taiwan Startup Stadium plus AppWorks.
[00:19:08] We really were able to find good accountant, good lawyer to help us register, set up because I mean like I read Chinese, but when it comes to legal documents, I don't think it's a reading issue. It's a, it's a stay awake issue. It's just, it's impossible and you know, so like we needed a lot of help we needed to know how to hire people how to hire local talents.
[00:19:38] So we were able to move into AppWorks and their space. Okay. Set up our office there for six months. So we were there from March to August, September. And then, officially moving as a start-up who pays rent, starting September. Okay. And they have this like HR master or design master that can help with whatever that you need. And, the HR Master help us set up like, okay,
[00:20:14] This should be your job description. Like, there're certain formats and you can look on XYZ platforms and these are the salary standards. Like, we didn't know any of those things. Yeah, it's helpful for sure. Yeah, and we did that and now we are a 8-people team. We have moved out of AppWorks because it's getting a little too tight for 8 people.
[00:20:44] Okay. And, to, into another co-working space also in Taipei. But yeah. Nice so you're at 8 now. That's that's, great to hear and we will put the video in the show notes. We just did a quick video. She demoed some of them to understand. As everybody knows in Expos, there is limited in, internet or not the best internet. So, some of it we gave a brief overview of that but she did a great demo for that. We'll put it in the show.
[00:21:09] So let's talk about the products and Massimo. Massimo. Is the name of the guy? Girl's? The name of the, the AI designer that does AI design. Bit of a unisex person, but he's named after a legendary designer Massimo Vignelli who designed the New York City subway map. The story goes when I was looking for a job after I graduated from SVA.
[00:21:42] I was sending my resumes to my, to my, basically these, the design icons that I really looked up to and I really want to work at. Vignelli was one of the Studios I emailed my resumes to. Even though he couldn't offer me a job then, he wrote a very kind and supportive email, read, went through my entire portfolio and said, you know, if they had the capacity in the future, they would definitely want to work with me.
[00:22:17] And for a 21 year old in New York City trying to find a job, that was one of the nicest thing that anybody could say. So even to this day I have the screenshot of that email. Massimo is no longer, but the platform is named after him. Okay, there you go. And so yeah, we showed me the demo and I'll try my best to say it first before you clarify but it's AI optimized graphic.
[00:22:47] So it's kind of like its true like you're targeting SME e-commerce Sellers from what I understand that want to go multi-channel and they're also not, they have, maybe you can even help with finding images, but they can also upload the images and then yeah like you got to put text on images now, right?
[00:23:03] It's banners. Everybody needs these banners and all these social media graphics and different sizes for different platforms. So you're helping kind of like do all, do that. Yes, we use various algorithms to help design all the banners you need on any digital marketing channels. And, like you said because the digital advertising scene is so different these days, you know with all the cross-platform programmatic bidding and targeting really there is no longer such a thing as like one ad fits all. You sort of like, for every ad that you want to make not only you have to design it.
[00:23:50] You have to design it and probably 30 additional sizes that you didn't know. Yeah, so our platform basically helps mainly consumer brands. A lot of them are doing social commerce or e-commerce and they have quick product rotation, you know, so on a monthly basis, there's probably over 50 new products coming online.
[00:24:20] And they need to launch it. They need to add their logo so that they can brand the photography. They may need to add some slogan or quick description. So they can add those photos onto all the different e-commerce marketplaces that are currently their sales channels. So that's the launching part and after you launch.
[00:24:45] The traffic needs to come from somewhere and a lot of times that's advertising or social media marketing and that's also a very time-consuming process. So our platform using algorithm to build this recommendation engine basically designs all the content you may need, for any channels any formats that you select and we generate up to 24 different design variations.
[00:25:20] So in the promote section, we basically use the algorithm to instantly generate up to 24 different design variations for all the digital marketing formats that you will need. And, as a active digital marketing brand, you know, it's not it's not just designing and publishing. You also need all the variations so you can do an effective split testing which is why we give you so many variations.
[00:25:50] Not only that they have been predicted to have a higher click-through rates out of thousands of possible combinations. You can also select from the 24, five of your favorite ones, do minor edits and tweak it to a point where you're ready to publish. And you can publish 5 at the same time when you have.
[00:26:16] When you have a set amount of digital marketing budget, there's really no reason why you're not maximizing it by launching your campaign in as many sizes as possible, as well as testing what your Target customers really are attracted to. So let's give an example, some of the listeners know we have a coffee product brand.
[00:26:40] So we sell like moka pots and French presses and stuff. I'm a partner in this company. So we have Facebook. We have Instagram. Of course, we sell on Amazon. We have our like a WordPress blog probably should be on more but we're mostly just really selling on Amazon right now, but could we, how would we use something like this?
[00:27:04] So take the coffee brand. For example, what's the name of the? Sisitano? Okay. So Sisitano, there is a logo for Sisitano. And, I'm sure there are plenty of great product photos of the French press and all of those. First you can upload all the product photos and lifestyle shots and the platform will then take that as well as your logo and maybe.
[00:27:33] Your marketing promotional stickers say best seller and taking all the photos you can upload 10,20 product photos and it will automatically stamp logo and the sticker bestseller onto all of your product shots. Plus pricing and find the most optimal position of where to place the logo and the sticker so that you get more attention in this very rapidly moving digital world.
[00:28:09] So that's the launch where you do multi content campaign and that you can immediately launch as your Facebook shopping catalogue or uploads to Amazon and the pictures are sized appropriately for those. Now once you've launched, take the same photos move to multi-sized campaign. And now it's time for you to select Instagram story, Instagram feed, Facebook Carousel ad, Facebook standard image for your fan page posting.
[00:28:45] So select all those sizes and take your French Press photo as well as maybe your coffee bean photo because that's a combo you're currently selling. Your logo is still in there. A marketing copy could be what is it that's coming up, is there a holiday coming up?
[00:29:09] Well, I don't know, but in Taiwan it's going to be Father's Day in August. So, maybe the best Father's Day combo is your marketing copy. And, your call to action can be, shop now. You can select from our drop down. Now what the algorithm is doing is analyzing the, the product photos that you've given us, given the platform and the sentiment of your marketing copy.
[00:29:36] So taking all of those inputs that you've done we are then able to give you 24 different design combinations and you can preview it directly on the platform. It's not going to cost you anything. So you can just look at them. They load four at a time. So remember to click more ads down the bottom so you can load and see, click open each one of them, change the colors
[00:30:06] Tweak the position a little bit because we say we're a I we say we're data-driven, but small Brands you always have your favorite color, right? You got to add that in there. So do that and select your favorite ones and click preview and download. Once you download that's when you actually pay pay means it deducts from your design credit.
[00:30:33] The images get saved into your local and they are sized exactly for Facebook, for any platform. So you don't have to worry about the dimension or the file size. Everything is done to the T. They're also in the dashboard, so you can create Facebook campaigns. You can publish to Facebook right away if you like, you can do your Google ads.
[00:31:02] So yeah, I know I get it. And they're looking at me weird. It's true. I think if it's getting towards our normal about 30 minutes, so I think I think to summarize. It's yeah, like an AI content creating and Publishing is also publishing for multi-channel social media with and it would also track conversions.
[00:31:25] Because it sees what's happening. We track the click-through rates because obviously that's the most immediate reaction if you see a good ad so we take the performance, click-through rate performance as well as the edits that you make in the campaign combining both of those to optimize the algorithm.
[00:31:47] So the more you use our platform the better the algorithm is going to personalize itself for the user. Exciting, exciting. So we will link to the show notes the video that we just recorded and then of course, how can people find, find the website find you or, or other things. So easiest way, go to our Facebook and our Facebook fanpage handle is Dipp.
[00:32:18] D I P P dot Global. The, our actual platform is available in both English, traditional Chinese and simplified Chinese. So I guess for all of your readers, listeners, they should be able to access it. And, dipp.global is also our handle on Instagram. Our website is withdipp.com or you can simply google Massimo by Dipp.
[00:32:49] All right. Thank you so much Jennifer.  It has been our pleasure to have you. We got connected to Startup Stadium. Thank you, Mike for having me on the show again. Are you curious about some interesting services to check out and crossborder business arena? Did you know Global From Asia has a reviews directory where you can check out new and relevant services and different tools for your cross-border e-commerce business? Check out globalfromasia.com/reviews. We're adding new reviews regularly and.
[00:33:22] The amazing part is I have an amazing team to help me with this. We have people contacting us who want to be listed on or reviews. We have people on a team helping editing, posting and I would love it if you would check it out. You can also see ones that are there, give your feedback your ratings.
[00:33:41] So share with your friends and more. I'd love to make this an extensive directory to help business owners around the world with their cross border business in and out of Asia. Thank you so much. And check them out. Check it out globalfromasia.com/reviews. Thank you so much Jennifer for sharing.
[00:33:59] It was great to have you and even with our technical difficulties. I know Alvin's our magic man editor making things happen. So I think I think we kept it all together. I hope you all enjoyed. I'm sounding like I'm from Texas or something, but I really do hope you enjoy this show. We work hard to keep these on track.
[00:34:18] Even on, on the road. We have some amazing interviews in the works. I'm very proud to share it with everyone. I wonder what you think. You know, she, did she make the right move? Seems like she made the right move coming back to Asia, come back to her home base of Taiwan. She's growing, what, eight staff.
[00:34:37] And things are really moving for her. I'm happy to have been able to get some of her story at this point. For me, you know, as far as the Rise Conference, like I mentioned we had amazing representation there with others helping cover different startups and different e-commerce events, and we're going to get so much amazing content out to everybody.
[00:35:02] In the future, you know, you can check out the Rise Conference mini-site. We're building out all these, all these ways to get you more in knowledge and information of what's happening in cross-border, e-commerce and Asia business, Amazon of course and other, other things, so I hope everybody is enjoying.
[00:35:20] That and it's just really hard for us to keep everybody up to date with everything that is happening here. We got just so much so much content. So if you have any suggestions of guests or different ways, my voice, some people don't like my voice or the way that I sound too young. Actually, I'm doing some consulting here in Ningbo and I met them and they're like, whoa, you're like.
[00:35:45] You look like 22 years old. I'm like, I'm like 38 or 37 or something like that, 1981. But yeah, you know, we keep it real here. But as far as what we saw at Rise Conference, there's a lot of stuff coming out of Southeast Asia. I think, Lorenzo and Lucian and Ivy, Francisco and I saw a lot of stuff in Thailand, Vietnam, Philippines for for e-commerce.
[00:36:10] I mean, there's local market places. There's, there's some really interesting new ways of logistics coming out. And, just like I said earlier in the show, we've had, we've had a lot of interesting things coming out of there. Also in Hong Kong, we did a video interview with an exchange platform for baby clothes, which I think is very much needed in Hong Kong because the clothes is so expensive. Life is so expensive in Hong Kong.
[00:36:35] So by you being able to you know, buy second-hand clothes and sell second hand baby clothes as kids grow so fast, you're just basically throwing stuff out. It's also really good for the environment and as far as, who I saw at the Rise Conference, they have Patty, the founder of Web Summit to a press conference
[00:36:53] I was, I rushed over there at the media room to get some exposure to what they're talking about with their perspectives and I asked a question about Huawei or the Tariffs. What is more painful to China.  He didn't give me a direct answer but what he was talking about the Huawei side and what he said was in Japan the same thing happened with the US
[00:37:17] US a couple decades ago was blocking Japan from from expanding in America or growing their technology to the US market. So Japan, he said expanded globally and built out even more globally so that they weren't this reliant on the US. And, he made it seem like that's what Huawei will do and it will be, you know, globally strong and kind of almost weaken America because it'll be this Global not Reliance on the US economy technology company.
[00:37:50] So, that was that was pretty interesting to hear and you know I'm American and you know, actually I was interviewed on Bloomberg also last week. I don't know if anybody saw, I was quoted in Bloomberg. The reporter Shelly really was fascinated with my conversation and want to make a podcast. They're having a podcast about it and I'll be a guest on their show and I think they're releasing it later, but we're going to do a before-and-after trade War.
[00:38:19] Or you know the next few months what, how it affects you. But I was on Bloomberg and one of their questions, it was like a 30-minute interview, she says how my parents felt when I came to, when I came to China. And, I talked a little bit about this on my personal blog but especially my mom was not so happy. I guess, you know, like all these, I guess educated Americans are taking our knowledge outside of America. And you know, maybe that's what will happen with this Huawei thing with go back to that Patty discussion, you know, like I think countries that can get the smart people to go and stay there will be the ones that win, you know. I talk to a lot of people and
[00:39:07] World is bouncing all around especially when we can work anywhere. It makes you really wonder where should I live? And where should I, smart people are the ones that will be able to work anywhere. I think, I think it's it's risky to be all-in on one country, to be all in either is for your team or for you're selling, your customers or your suppliers.
[00:39:30] I think all this trade War stuff, it's just going to force us to be more diversified with our customers, with our, with our suppliers, with our team. You know, I think we're going to have to be more and more remote, more and more online. I think that's, at least what I'm thinking. I can't, I can't, I can't really be in a physical location.
[00:39:51] I don't trust it and and we're on our blah blah, and I'm not really talking about the Rise Conference too much. But we have a huge section about it at globalfromasia.com/rise-conference, or you can really dive deep into a lot of different articles. We'll be publishing over the next couple of weeks.
[00:40:10] But that's what I'm really working. That's why I'm so excited about there. I was there for a day. I had to come to Ningbo to do a consulting session for some training for a factory and these, these guys are really amazing and girls to step it up at the Rise, on behalf of Global From Asia. We got amazing content coming and things are moving.
[00:40:32] So that's, that's my goal. I can't be the only person to do everything and I just need to have good people that want to help in the community. So we have the membership and we have these events and we have more ways to have contributors. Bennett little I'm not sure if you listen to the podcast, Ben if you're listening
[00:40:53] Let me know. But he's a contributor. We have globalfromasia.com/news, and he's writing Global Gab column. So it's like a gab, a discussion about the economy and international business and and that's, that's amazing and. We're just working really hard here to keep things rocking and rolling. I think I'm done for the blah blah blah.
[00:41:17] We are just, I don't know. Maybe I'll get some new people help hosting the show. I'm just really excited that we get more and more people on the team involved. April's doing amazing. Mark Ramos is doing amazing with the cross-border summit planning. We got people that want the Hua Qiang Bei Tours we've had on the site for a while.
[00:41:36] We got some big groups coming in from Europe. We have people on Yiwu tours. So it's just really amazing. I just want to see Global From Asia to become bigger than me. Because I'm a pretty, crazy, up and down kind of person and I need some more stable people with stable products coming in which seems to be happening.
[00:41:57] So thank you everybody. Thank you for listening to this session. I wonder if you're still listening. I think Lorenzo, I think you're listening all the way till the end. So appreciate that. Have a great day everybody. Get more info about running an international business, please visit our website at www.globalfromasia.com that's www.globalfromasia.com.
[00:42:22] Also be sure to subscribe to our iTunes feed. Thanks for tuning in.
Podcast: Play in new window | Download
Subscribe: Apple Podcasts | Android | RSS