Podcast: Play in new window | Download
Subscribe: Apple Podcasts | Android | RSS
Want to know how to run multiple brand names under 1 Hong Kong Limited – then episode 74 is waiting for you
So last week was the first week back from the Chinese New Year holiday, and I was riding my mountain bike to the Unchained Apps Office on Wednesday while listening to podcasts. My buddy Chris Gormley who you have heard on the show before in 63, 23, 9, said I am nuts to do that…so I'm catching up with a bunch of TropicalMBA episode 282 with Tristan King talking about an idea for international accounting alert services, I got so excited – I was also probably peddling way too fast, and I come around a corner, off the sidewalk to go into the intersection….right off the curb there is a patch of water and the wheels totally slip sideways….I slide into the intersection on my right side, skid my knee and shoulder a bit and then bumped my right cheekbone into the payment…jeez, I think it was the meditation I've been doing because it was like slow motion and I could adjust myself as I was going down – so luckily i'm just a bit scratched up and my cheek is skuffed and swollen…the pedals on both sides are completely bent up and reflectors smashed off and other small scrapes on the bike – then a nice Chinese guy ran up to help me right away, but I didn't want any help got out of the intersection and just kept on heading to the office
I'm not gonna share a photo of my scraped up face, but if you wanna check out a photo of the pedal I shoe tied back together check it out on the show notes – globalfromasia.com/episode74 – and I have been meaning to do it for a while but I'm gonna hop on over to TropicalMBA podcast and give them a five star review, good stuff cranking out as usual.
Photo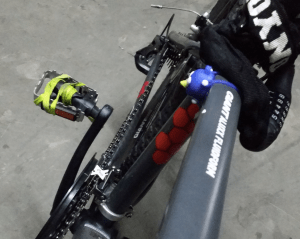 Ok, enough of the stories – this week we have Sunny Wong from Grand Consultancy on the show again – he is helping me understand this new concept of having multiple products and services under 1 HK limited company , called branch offices in Hong Kong , but basically like DBA (doing business as) in other countries. I wish I heard about this years ago, because many of us open multiple limited companies – this may help you out – and after the interview I will tell you how this works when opening another account with HSBC Hong Kong, as I paid them a visit last week too.
So let's dig in!
Topics Covered in this Episode
Introduce Sunny Wong (on shows 2 and 33)
Many people open multiple Hong Kong limited companies – what are the main reasons?
Some may want to do it for different owners, and that is definitely for a totally new limited, right
But sometimes people do it so that they can have different business names but the same owners – is it possible to do that under the same limited?
If this is possible, how does accounting work? Still 1 accounting book?
So are both names shown up on the CR database when doing a search?
Can you "spin off" one of the companies to its own limited later?
What are the costs of doing this and maintaining it?
Another random question but I get asked a few times – withdrawing money from an ATM for the company directory – how is this treated when doing bookkeeping, as a shareholder withdrawal right? Can you give us some insights
How can people reach out to you?
People / Companies / Resources Mentioned in this Episode
Episode Length 27:19
Thanks Sunny! This is his third time on the show – and as always telling us the real deal. He's a bit old school dropping the Hong Kong number, but if you want to give him a ring do so and thank him for us! Let's make it ring off the hook!
So I have yet to open a brand office for my company, but I am thinking to spin off a branch company for this podcast – Global From Asia – so let's see how that works – Shadstone Limited is the limited company, I can pay the yearly fee to have the branch setup – but how does the banking work – as that is the big thing right? So maybe I can have a hustling entrepreneur that wants to be the boss of a company in this umbrella, I can give them signing access online and offline to this branch bank – well I paid a visit to Hong Kong HSBC last Tuesday, in their 1 Queens road central location – and first of all, it was pretty awesome, I was on the 6th floor SME center and there was a employee dressed up as a buddhist god, called Choi San in Cantonese, which is the god of fortune, and passed me some golden candies and let me take a photo wit him – finally a perk for being a HSBC client! Jeff broer commented on twitter that HSBC only takes money from us, never gives us – so I'm special here, granted its candy….
Photo with the god of fortune in HSBC Hong Kong
Ok ok, so I go into the HSBC and sit with a rep and talk to her about branch offices, she was also not so familiar and checked with management – and this is what I found out – basically you have to apply for a completely new account, go through another interview, and the minimum balance is separate, so for example you need to keep a balance of 10,000 Hkd in each account to avoid the monthly service charge.
But the cool thing is – you can have different signers and totally separate online banking – and when people pay you – the payment instructions only needs to have the Branch name – not the parent limited company's name – so for example, I can give someone my Global From Asia branch office as the beneficiary name and the bank account number, with no reference to Shadstone Limited. But if it is paper checks then it needs to have the DBA mention of Shadstone, but who uses paper checks anymore right?
OK, so that is that for this time – I kinda unloaded a few stories – and I am also happy to be getting replies to my newsletter – I send out a weekly newsletter and people have been enjoying it – I add a few relevant news in the industry as well as new podcasts and blogs I'm pushing out – if you're not on it – check it out on globalfromasia.com/subscribe
til next week – peace!
Download Options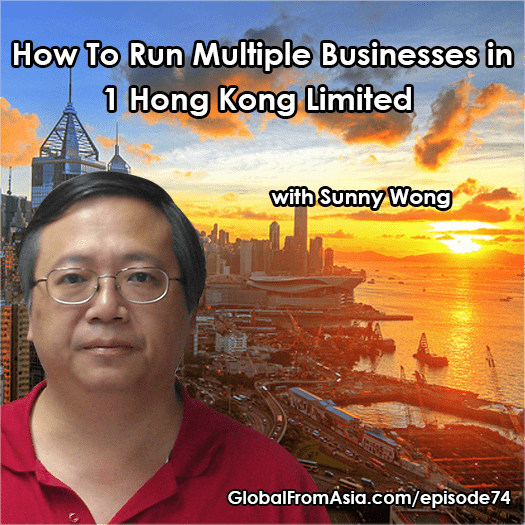 Listen in Youtube: