---
Episode 119 – you guys ready? Hope those had a good Easter holiday this past weekend, Mainland China is just another day like usual – but those working and doing business in Hong Kong had a nice 4 day weekend – Friday and Monday off! That is more than even in USA – with just Friday's off most of the time in America.
Just finished reading a couple of Dr Suess books to my kid- and convincing my wife to take Miles to our Cross Border Summit on Saturday April 16 – at least visit for a couple hours! I know some listeners coming would love to meet him, I'm working on it!
Ok, now for this week's show – we have Matthew Chow from Go Qi wireless.
Matthew Chow has been making leather goods for export for over 15 years but only just starting with tech items, today he shares the new issues presented with wearable tech and gives tips for those following in these footsteps.
Topics Covered in this Episode
About Matt

How about your background Matthew, how did you get into the leather business?

China

How did you end up in China?

Various type of manufacturing

A bit of overview of the leather industry.

Taking Orders - OEM, ODM

Do you do your own concepts and put other people's orders on it?

Building a brand - investing early

You started your own brands early on, how did that go, and how did you structure the deals?

New product - Goqi

How did this concept come to be?

What product to focus on?

How complex is one product line could be?

Tips for new buyers?

Tips to new buyers when they are trying to get quotations or choose a factory?

Product specifications?

How should it be sent? Is there a criteria? Do you have tips or advice?

Combining Leather and Tech - Wearable world

How is that?

Balancing the design with reality

What specs did you have to leave off that may have been nice to have? How to tell?

Contact

How can people reach out to you and your company?
People / Companies / Resources Mentioned in this Episode
Episode Length 36:03
Thanks Matthew – if you guys can check out his Indiegogo campaign – even if you can share it on your social media channels it would be great – still have a bit over a week for him! So let's show some support!
That is all for this week – if you know friends or people in the industry who would benefit from this podcast – please feel free to share with them! Seems that is the best way more people find out about the show. And we have quite a few amazing shows coming up – next week talking crowdfunding again – I'll leave you on the edge of your seat for next week
Until then – have a great week ahead.
Download Options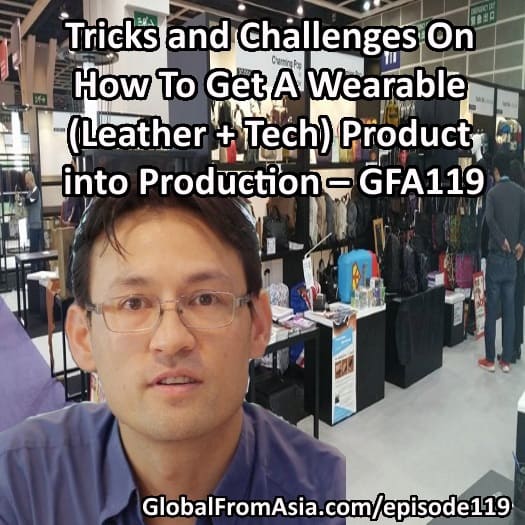 Podcast: Play in new window | Download
Subscribe: Apple Podcasts | Android | RSS