Welcome to another Global From Asia Podcast – we are keeping up our promise to keep you guys up to date with wild and amazing new business trends and today I am so excited to share with you. If you watch some of my personal Mike's Blog videos you may have seen I took a trip to Colombia in February. Or if you attended the Cross border Summit you may have heard from him yourself – but today we are putting it out there – Global From Asia is investing in the Latin America market – big time.
Esteban and I have been talking for almost a year about this and there is so much opportunity it is overwhelming. So we want to open this up to you guys, in all ways possible.
Let's take it away and get into the show with Esteban and Latin America opportunities, cheers!
Topics Covered in this Episode
Intro Esteban

Thank you! For being a GFA listener, for speaking and sponsoring CBS 2018 in Shenzhen – and for making this deal happen! We connected a few different ways – from an Abnet meeting in Sheou, Santiago, Wechat group, Claudia in Miami- really wild story.

The recent history of Latin America

Let's face it – Colombia – at least for our generation – you think about the Scarface movie, and other, well, you know what I mean. When I went there in Feb a few of my friends were thinking I was doing another kind of "cross border business" if you know what I mean. But things have changed so much over the past 20 or so years, can you share?

Relations with China

So you are so excited about the opportunity between Asia (China specifically) and Latin America. Can you share this excitement here.

Now this is 2 ways

Into China – obviously – everyone wants to sell to the chinese consumers

Out from China

You also shared at the summit – Amazon sellers, ecommerce sellers, also can tap into the growing ecommerce market in Latin America – where Amazon is nowhere near as dominant.

Warehousing in Colombia

There is a cool fact I learned from you – Colombia is the only country in South America that has ports on both the Pacific and Atlantic ocean. Meaning you can ship from China to the West coast, then truck it a short distance and ship from the Atlantic side. But not just this – you can also save a lot of money on warehousing costs.

Free trade into America?

So another thing, I'm not sure how the taxes exactly would work – but there are trade deals from Colombia into USA? So can leverage this too?

Let's talk about some of the opportunities

When I was there we talked about a gold mine with a friend of yours who was running for congress (and won!).

Just Colombia? Or?

But we are talking about all of Latin America. Massive opportunity here.

The opportunity for listeners

Already we got some interest at the CBS and also from the PR releases that were sent out. Let's take a business trip to Colombia

Next Steps

What is there to come for Global From Asia ES – so much opportunity here. I'm really excited.

Cross Border Summit, CBS 2019 in Colombia

Mar 18 – 22, 2019

Connecting with you

How can people connect with you or this initiative Esteban? We have an amazing team already formed in Colombia how can people tap into this
Thank you so much, and let's do this!
People / Companies / Resources Mentioned in this Episode
Episode Length 44:36
Exciting, isn't it? We are already getting inquiries on the Colombia event page and the show hasn't even gone live-  it is already showing we have something special coming here. I know we have gotten requests from listeners to do something in America – well this is Latin America – pretty close right? And definitely a cross border type experience. One other amazing thing happening is we are making a Spanish version of the site and the podcast! GlobalFromAsia.com/es (for Espanol) is coming together step by step and we are rocking it.
Download Options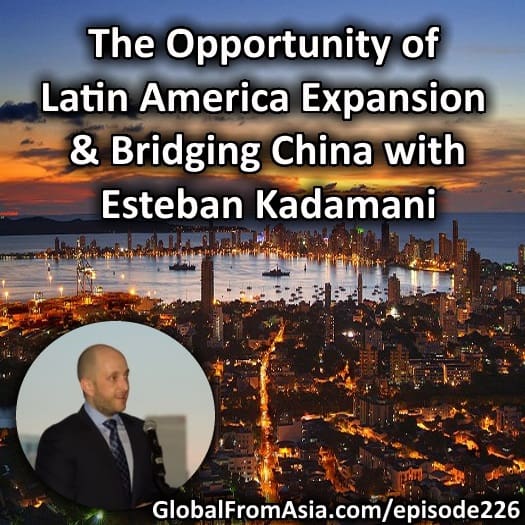 Podcast: Play in new window | Download
Subscribe: Apple Podcasts | Android | RSS