---
This week is a fun one – we did a live meetup for Global From Asia just a few days before the Cross Border Summit – and I interviewed our musician, Michael McGillicuddy about his "Coming to China" and finding his passion and what he loves. He did an amazing job singing at lunch on both days during our summit and has this to say about it :
"What a GREAT conference this weekend! Mike and his team had a group of great speakers, classy venue, delicious coffee bar, and a wonderful opportunity to network with successful entrepreneurs. It was an honor to play at this year's Cross Border Summit."
Michael Mcgillicuddy
So let's get Michael's story coming to China, various business endeavors, and finding what you love!
Topics Covered in this Episode
Intro Mike

We met at a TEDx Shenzhen meetup – but I've known about what you and your team have been up to for years. Do you mind introducing yourself a bit for the audience?

How you got to China?

How you learned Chinese?

Trying To Find An Angle

Finding your calling

Business Endeavor

Peanut butter Americano

Coming to China - Time bomb

Singing and Jokes

Music Exchange

Making Deals, Partnerships

Lease Gone Wrong in China?

Staying for the long term?

How To Help Foreigners Just Getting Into China
People / Companies / Resources Mentioned in this Episode
Episode Length 32:43
Thanks Mike for coming on the show. He has also invited me to be part of his new youtube channel – emotional white guys in China – as we are some sensitive white guys putting our hearts into everything. I'm doing so many video blogs already at Mikes Blog .com – not sure if I can handle more content – but let's all keep doing' what we love to do – or at least making steps to get on step closer.
And I love meeting listeners- we will work on that event platform – it is coming up soon – but you can also check globalfromasia.com/events if you'd like
Download Options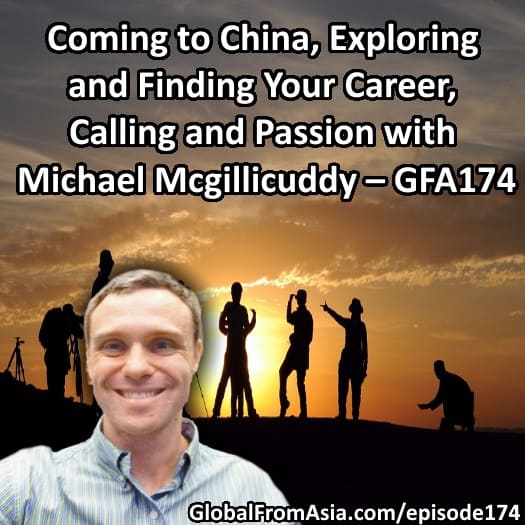 Podcast: Play in new window | Download
Subscribe: Apple Podcasts | Android | RSS