---
Our episode today is a fascinating interview with another expat who also had the same thought process that I went through – as a husband and a father like me whose family is in China. Do I stay, do I go? Should I stay in China or go somewhere else? It's an interesting thought process he went through and some other things he saw. We keep these shows in real time. Let's tune in.
Topics Covered in this Episode
Introduce Hugh Bell

British expat in Chengdu with wife + children (similar to Mike)

Experience on Jan 24 in China during Chinese New Year Lunch / Dinner

What was this feeling and experience when lockdown started? Wuhan was Jan 23, your Chinese New Year lunch was Jan 24

The thinking of how to handle it

What was next, what was going through your mind?

Discussing with your family

What were you, your wife, and family saying / thinking?

Fight or Flight Thinking

What is this you mentioned before- the fight or flight thought process

China Visa Handling During Pandemic

What has been happening during this pandemic, your visa situation

Extensions during Pandemic, right?

I heard foreigners can get a 60 day extension due to this virus, no?

Hugh's plan for visa runs?

So if you have to leave, what is the plan, where, how to deal with your family? Cambodia, Myanmar, or Hong Kong decision

Mike's thought process and findings

What Mike plans to do now (after the show interview)

Advice for those listening on travel / immigration / family

I know a few others like us, what do you recommend for them?

Connecting with you

How can people find you online, Hugh
People / Companies / Resources Mentioned in this Episode
Episode Length 52:52
Thank you so much you for sharing Hugh. It was really cool to have you back on and there was much less about business, more about being a foreigner in another country. I am out of quarantine now and I am just enjoying spending time with my family. Thanks everybody for listening.
Download Options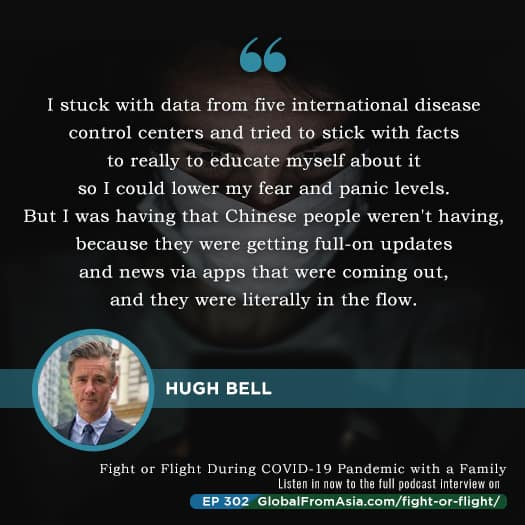 Podcast: Play in new window | Download
Subscribe: Apple Podcasts | Android | RSS