Podcast: Play in new window | Download
Subscribe: RSS
Want to build your own country and government on a floating island, yes, crazy – let's try this out – global from asia episode 88
Thanks for joining me on episode number 88, lucky number here in China – this is true, and I am so lucky and fortunate to have you tuning in with me today and sharing with your friends
Today is a pretty far out concept, but since we do deal with international business and a lot of that overlaps with governments who are still trying to keep up their walls and barriers – I want to introduce on the show an idea that is still rather early stage, called SeaSteading – I heard about it from the bitcoin community as there is some overlap in the ability to have an independent / government-less currency alongside a new/non -government state of seasteading.
So we will discuss how Using Seasteading To Build Your Own Floating Country and we brought on with us Leo Weese who is the ambassador in Hong Kong to share what this exactly is and where its going so let's listen in:
So today's show is a little bit out there, let me know if you think I'm crazy to have this show on!
Topics Covered in this Episode
Intro Leo Weese
So what the heck is Seasteading (Mike can't even pronounce it correctly!)
What is the relationship between Bitcoin and Seasteading?
When did Seasteading get started?
Why did it start? a bunch of radical anti-government people ?
Where is Seasteading currently – how far away are we from it becoming mainstream
Are there any examples of seasteading actually in use today? What industries, or use case studies can we use to get a grasp of where we're at.
Ways people listening can get active, and especially since you're an ambassador of the Hong Kong seasteading community!
People / Companies / Resources Mentioned in this Episode
Episode Length 34:19
Thanks for coming on and sharing Leo – i hope you guys like this show – give me feedback – was it on track to s something you'd listen to – or too far out there? I personally think its fun to have some episodes where we explore really early stage ideas and see what people can do with them,
who knows maybe this will inspire a listener to pick up seasteading and do something with it! But i think it is true, governments around the world are freaking out as they no longer have as much ability to put up walls and barriers like in the past and are trying to adapt to this new society – what do you think – i'd love to hear some feedback on comments at globalfromasia.com/episode88
til next week guys, cheers!
Download Options
Direct Download: Right-click here and click "Save As" for a direct download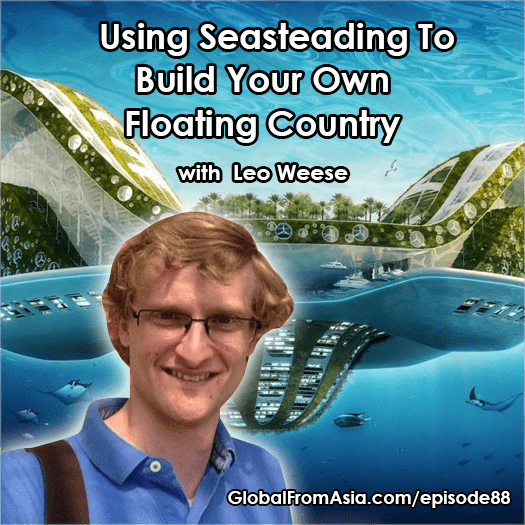 Listen in Youtube