---
Welcome back to Global From Asia- our first interview in our re-launch – Global From Asia 2.0 – and I am ready more than ever to make MOVES and get everyone rocking and rolling.
Today we are talking about leaving China. I know, I left China last year. But Rico and I – we are not China haters. Man, I love China – my wife is Chinese and my kids are halfies.
But for many of us- we are not "China for Life" (Ok, Zack Franklin, you're a China 4 Life guy) – for some who never go to China – who buy off Alibaba or use a sourcing agent like Rico or Insight Quality – or come for the trade shows or a factory visit. For others (heck, even me) we go for some time and then setup operations there and have it run remotely.
And that is what Rico has done / is in the process of doing. And today we talk about that, so let's tune in. After the show I'll share my story of coming to China and how long I planned to stay.
Now let's talk about the Transition to Managing a China Sourcing Operation Remotely
Topics Covered in this Episode
Intro Rico

You've been on a few times – and I've been on your show a few times – Made in China podcast, how are you?

Mike's Time Out Of China

Been over six months as of the recording, and Rico you're now transitioning to spending less time in China. But it's all love – no hate – I miss China in a lot of ways.

Unexpected Benefits when leaving China

Rico found some nice perks while networking once out of China.

Grooming a COO, Office Manager

Rico's experience in building up a team and a manager.

Roles and KPI for this Chinese Manager

What is her job? (KPI is key performance indicators)

Compensation for the China Partner (Is it partner?)

How are you keeping her interested and invested for the long term?

Mike's Concerns From Previous Guests

Discussing Steve Marsh's lawsuit in China with his previous staff. Warning Rico a bit and Rico's response.

Managing Financials - Remotely

A challenge is money flow – when you're not in China – how do you deal with it?

What Rico is Up to Now - and In Manila, Philippines

Let's learn what Rico is up to now.
People / Companies / Resources Mentioned in this Episode
Episode Length 57:51
That is a wrap. I mentioned I have interviews already done and wasn't sure the order. We have some other fun and informative ones coming too – so make sure you subscribe (or re-subscribe) and bring things back better than ever.
And for those who listen to the audio, I'll be sharing at the end of this mp3 the story of how long I planned to stay in China and what actually happened, enjoy.
Download Options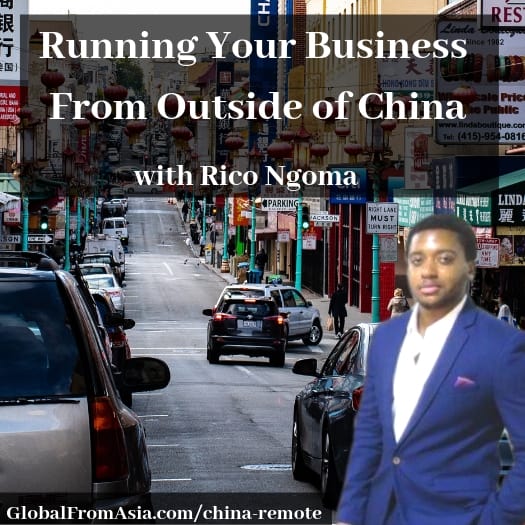 Podcast: Play in new window | Download
Subscribe: Apple Podcasts | Android | RSS