---
I am still catching my breath from a full afternoon in a ball pit- here in China there is a trend of taking your kids to these indoor playscapes – and the one we went to today was massive – it is normally an ice skating rink but they filled it with plastic balls, slides and more and put in hundreds of kids followed by nervous parents and rock music. The joys of being a parent.
Quick reminder, it's a bit less than a month away, we are having a full day business trip on Friday Oct 21 in Hong Kong covering Chinese e-commerce – check it out at globalfromasia.com/hktrip
And… I'm going to try live radio! This Thursday (in a bit over 2 days from when we publish this show) we are launching Global From Asia Live Talk! To learn about it, we will have about a 30 – 45 minute live stream covering trends and news in Asia business and other cool topics happening. Tune in, and chat with me live, as well as a few other guests!
Have received a lot of good feedback on last week's equity crowdfunding episode with Nathan Rose – honestly kind of experimenting with various topics and themes – we hopped down to Philippines and Thailand corporate setup as well in recent shows.
Today, we are back in Hong Kong and have a fun story. I deal with a lot of Hong Kong accountants and CPAs, and one that I have gotten to know a bit is Joseph Ng – we had some great calls and discussions about his firm's development, changing times in Hong Kong, how he opened an office in Beijing, getting his son into the business and more.
Topics Covered in this Episode
Intro Joseph Ng

Joseph, very great to have you on the show – and great to be here in your office. You have quite a lot of business experience in Hong kong and China and thanks for coming on.

CPA Firm History

So you started your CPA firm quite some time ago, how did you get started?

Change

And things have changed quite a bit – with more Mainland Chinese registering companies in Hong Kong and going international – that has changed the ecosystem quite a bit, would you say?

Office Expansion

So you opened an office in Beijing to better accommodate the growing Chinese demand to go global, that was in the early 2000s? Care to share the story of how your office expansion went?

Family Involvement

I liked your story you told me about your son got involved with the business, I have that similar hope for my own son to get involved with my business as he gets older – how did it go?

Real Estate Venture

The Beijing office has now wound down, but you did a great job with the real estate timing!

Global Opportunities

What opportunities do you see in the bridge between Mainland China, Hong Kong, and the global markets?

Risks

What risks do you see?

Advice

Your firm has decades of experience, care to introduce how you can help out listeners today? Thanks for coming on!
People / Companies / Resources Mentioned in this Episode
Episode Length 26:16
Very cool to get Joseph on the show! He hasn't heard of a podcast before, basically explained it as internet radio. That is what I am trying to do – get some shows on here that you can't find anywhere else. We recorded in person in his office, no skype, just face to face conversation talking old school Hong Kong business.
Not to get too political, but it has to be mentioned. Wall Street Journal put out a piece all about the changing times in Hong Kong as Mainland China gets more and more involved. I'll link that up in the show notes as well for those who want to read it. Hong KOng is a great place and let's hope it can keep its competitiveness and differentiation.
That is all this week – see you in a week for the next interview – or live in a couple days for news and trends, cheers!
Download Options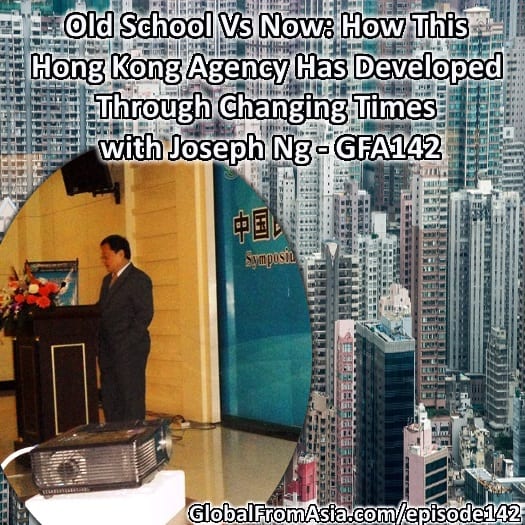 Podcast: Play in new window | Download
Subscribe: Apple Podcasts | Android | RSS