---
Greg Mercer Amazon Product Research – Tips for Finding that Needle In The Haystack
Welcome to the fifth episode of the ecommerce series. We have the partners ready and announce them on the show – Cadrian, Jack, and Roland! They share a bit on the intro – and then we dive into the product selection process getting Greg Mercer back on the show. He is the CEO and founder of Jungle Scout – and he is giving away so much powerful knowledge here, this is one you may want to listen to again and again. Thanks Greg and lets tune in!
Topics Covered in this Episode
Intro Greg

Glad to have you back on the Global From Asia show! CEO and founder of Jungle Scout and a guy that works hard and makes things happen. Thanks for coming back on, Greg!

Today Talking Product Research in Founding Teams

We had you back in episode 124 which was very helpful talking about finding a product online as well as at a trade show such as Global Sources – thank you – today we got you on for our new "public case study" Amazon FBA business – we signed up for Jungle Scout at the company and are using it already – some questions for you:

Who Should Be The Product Research Guy?

If you have multiple partners on a team, how do you suggest to delegate product research? It is such an important part of an ecommerce business, should everyone have a role in it, or should there be 1 expert who is the master of it in the founding team?

Sharing Access To Product Research Tools

So we are all sharing login access to Jungle Scout software, we have some groups of products saved – any tips on how we can best keep track – or should we make a separate google sheet of our research for each team member?

Going wide, or focusing down

Already we are having discussions in the team about should we pick a wide range of hot products in our research, or pick 1 good one and then some "semi-hot" ones in that same category? The thinking is – should we take a lot of similar products, but only 1 or 2 seem like big winners, or go for a category that has more wide range of above average winners (vs 1 or 2 big winners)?

Making a Decision in the Product Selection amongst a team

and now need to "vote" and decide on the product – any tips on how we should select. We want to make it in time for Christmas sales so need to act fast and start getting samples and place orders!

Ongoing Product Research

So once we do this initial selection, our work for product selection is not over, right! What are some of the regular tasks an Amazon seller should be doing to keep on top of their product and category.

Tips for our new Venture

So what do you think of our new public ecommerce business! We have 4 partners and a strategic advisor with plans to raise more money soon.

Ways People Can Learn more about you and Jungle Scout

Thanks again Greg for coming on the show – you guys are making amazing software for Amazon sellers – as well as content – the million dollar challenge is pretty cool too – care to share with us a bit about Jungle Scout and its current initiatives
People / Companies / Resources Mentioned in this Episode
Show Sponsors
Please show support of our GFA media sponsors as they make this podcast possible to be free!
Supercharge your sourcing with Global Sources' unique Online-to-Offline services.
Episode Length 37:44
Thanks Greg, that was just so massively valuable we are plugging those right into our new ecommerce Amazon FBA business right now. how about you guys listening – enjoy it – let me know and see you soon. Let's keep taking action and making things happen
Download Options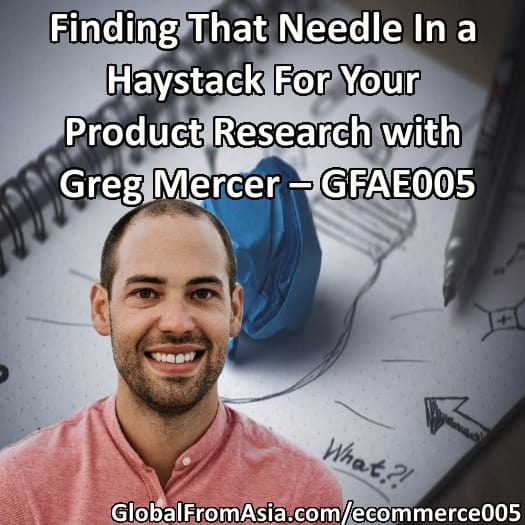 Podcast: Play in new window | Download
Subscribe: Apple Podcasts | Android | RSS