---
Duke loved the show last week and said Haangen Daz is a French name – but from Wikipedia says established in Brooklyn New York
Good morning vietnam! I'm here in Hoch w/ Jon Myers, the king of the city 😉 It's my first trip here and have been having a great time – thanks so much to Jon's tips and advice along the way – so as the trip comes to a close, I want to take this opportunity to have Jon share some of these value bombs with you guys for your trip to Saigon – which if you ever spend time in Asia and you're a business owner and entrepreneur – you gotta come out here and see the scene.
Topics Covered in this Episode
Intro Jon

Basically, you are a design guru! American – born in Columbus – grew up in Virginia area, had a design agency in New York City- been out in Asia since the 90s – Moved to Taiwan as a young guy – for a year – Little bit of India in there

So - about this city - is it Saigon or Hoch Chi Min City?

I'm still confused to write Saigon or Hoch Chi Min in this podcast title, or do I put both? What's the story with the city names?

Why Saigon? What is it about this place?

Fast internet, Low cost of living, Cool people, Developer scene, Expat Startup Scene

Its developing up fast - construction everywhere!

Coming to Vietnam, Passport Visa

Now, we need a visa to come to Vietnam as Americans – you recommended a great service for getting a visa online and easy – let's share this process with listeners.

The basic layout

I'm still kinda overwhelmed as I've only been here a few days – but there is District 1, which is the center, then seems a lot of people are in District 2, there is also district 3 and 4 which we passed by for dinner. The city is like a circle with everyone based around district 1?

Cost of living in Saigon

Networking events

We did our first Global From Asia meetup in June 2017 here, thanks for coming on and helping spread the word and sharing your experience on our panel. We hope to keep these meetups going monthly here in this amazing city. You've mentioned there are a ton of other meetups – how can people get plugged into the scene here?

Incorporating in Vietnam

Do people do it? Or most just run an online based business and leverage the local scene? Most people here I know are incorporating outside of Vietnam, such as in Hong Kong, Singapore, USA, etc.

Developer scene in Vietnam

I have great experiences working with Vietnamese developers I find online. I can only imagine how awesome it must be to tap into the local developer talent and be able to put them all in a room together and build awesome stuff!

Working with Local Vietnamese People

Now, in my few days here, I would say Vietnamese people are very shy and introverted. Very nice people, yet I'm having trouble even meeting my developer as he's saying he's busy. I just think they are shy to speak English, or interact too closely with foreigners? Even the meetup we had, the few that came seemed very shy to interact. How do you coordinate with the locals in town?

Saigon, Vietnam vs Shenzhen, China

Now, I gotta bring this one up – you spent a few months over in Shenzhen where I'm based and – didn't enjoy yourself too much. I guess after spending just a few days out here in Saigon I can understand – want to explain some of the differences?

So what are you upto these days? How can people connect with you?

Can we say newbies to Saigon can look you up? What kind of people are you looking to meet and how can people find out more of what you're doing here.
People / Companies / Resources Mentioned in this Episode
Episode Length 35:21
Thank you Jon for coming on the podcast and sharing your knowledge about Saigon, Vietnam. Jon has helped tons of entrepreneurs make the jump over to the growing e-commerce and entrepreneur scene in Vietnam.
Also thanks Jon for your support on our growing GFA meetups in Vietnam! Our next one is on Thursday July 27, 2017 and also at the Hive Saigon coworking space like last months. We plan to keep this chapter rocking with an event each month.
Download Options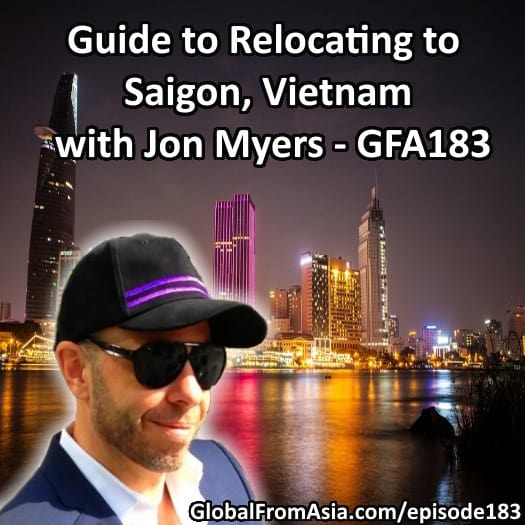 Podcast: Play in new window | Download
Subscribe: RSS