Setting up a Hong Kong company is the heart of doing business in Hong Kong and the basis of getting up and running.
You may wonder and ask how hard the company formation process is here in Hong Kong.
These questions arise from…
Confusion and information overload from various web sources
Many say when they talk to me there is a lot of discussion online and offline, and its confusing. Often they are asking is Hong Kong incorporation right for my company headquarters?
This post is long but will go through the main points and this can be a basic guide. Print it out, save to your computer, or come back later. I want to help you to get you through the process for those who are not in Hong Kong and want to do it with a trusted agent.
Looking for help?
Learn about our Hong Kong company secretary service here.
Hong Kong Company Setup Cost
A top question we receive here at Global From Asia is:
I'm interested to setup my HK company. I just wonder what the costs are for the setup and first year, then the ongoing fees?Blog readers
There are a few major parts of the Hong Kong company setup cost, let's outline each piece below and then give a price range after
Company Registry (CR) filing fee: 1,720 HKD (220 USD)
Business Registration Certificate (BRC): 2,250 HKD (290 USD) / year
Company Secretary (yearly): depends on agency
Hong Kong Local Office Address: If you don't have HK address (yearly)
Bank Account Help: If you'd like professional help
And that is basically it! The CR fee is a one time fee. The BRC is yearly fee. The company secretary is required – which must be a local Hong Kong person (ID holder) or a registered HK company. And you'll need a Hong Kong office address (service provider) if you don't have one, or want the government mail to directly go to the CPA firm you work with.
So you can see the base fee is about 510 USD, and then you need to add the company secretary and address for a year. Most agencies are around $1,000 to $2,000 USD depending on what level of service and personal hand holding you require. And a big factor is the bank account help now, as it is extremely hard.
Comparing Hong Kong to Other Alternatives

What is the purpose of you setting up in Hong Kong? A Hong Kong address is pretty exotic, and at the same time legitimate. When you issue an invoice to a client from a Hong Kong company, it puts the image of the beautiful Hong Kong skyline in their mind.
It gives the authority of a truly global organization.
There's more than being a globally respected location for international business. Hong Kong is also friendly to companies with favorable tax rate of 16.5% for domestic business. Even better, you could qualify for offshore status you can even get to zero percent corporate tax to Hong Kong.
The laws originate from British standards, as Hong Kong was a UK settlement for quite some time. This lets you enjoy the English language on all the company documents and online documentation. While still being in the center of Asia.
Another amazing benefit is the great financial system. We'll cover banking in the sections below. The basic idea is you'll get good English language, multi-currency online banking experience. Also benefit with same day low cost international transfers.
Want to compare Hong Kong head to head with other top global contenders? For more details on this comparison, I am soon working with someone on a chart and comparison of various countries. Sign-up for my free newsletter to get the latest updates.
Preparing For Company Formation
Cool, you made it with me this far.
So that means you're convinced on Hong Kong?
Nice, so wondering what will you need to start the process?
It is pretty straight forward. For each shareholder of the company you will need to have ready:
Photocopy of your passport
Company Name Ideas (we'll cover that below)
Correspondence Address
Hong Kong Secretary Address
How long will it take?
I would budget at least a month from starting the process until you have a company with a bank account. The company can be up to 2 weeks (filing time and the time between couriering the documents to you and back)
Getting a Hong Kong Address & Secretary
You'll need a Hong Kong address for the government filing and snail mail correspondence.
As in any metropolitan area, there are tons of services in Hong Kong for a company address. From virtual offices to serviced offices, it all depends on the level of service you need.
It is pretty overwhelming when shopping for an address in Hong Kong, and it depends on your needs. Here are a few services to consider when deciding the level of office you need:
Secretary services. Instead of hiring your own secretary, you can leverage a third party company. They can help with local Hong Kong business, translation, calls, replying to customer service emails and more. It's required to having an address in Hong Kong to receive the government mail. You'll get mail from IRD (Inland Revenue Department) and other Hong Kong government agencies and they want to make sure you receive it.

Mail collection and scanning services. Mail is pretty critical, when a government notice comes in about your business registration, you need to get alerted. Will the service provider scan and email these important notices to you, or will they put it in a box for you to collect? These small clarifications will make all the difference if you are not going to be visiting the office. A bad secretary service can lead to a lot of frustrations working overseas.

Phone answering services (dedicated number or shared). They can offer you a local Hong Kong number and answer it on your behalf when you're out of town (which could well be always!) and email you or even transfer to you – various plans and packages so ask for all details.

Meeting rooms. This comes in handy! Hong Kong coffee shops are jam packed and many times its impossible to find a good seat when meeting a client. Leveraging the serviced offices's meeting room is a life saver! It makes you look more professional to your clients and business partners.

Business lounge (also "hot desk"). A lower price than a dedicated or shared office. Many of these serviced offices now offer a shared business lounge where you can find an open seat to work from. Imagine a coffee shop that is only for paying members.

Dedicated office. For a certain amount of days per month, or full time usage, you can get access to an office to have team meetings or work together more often. Pretty cool idea is to invite your virtual team to meet face to face together here. Spend a few days where you rent out a dedicated office to base from and get tons of work done!
Many agencies include a basic address in their service fee. You should also be clear what exactly you need the address for and if you will be using it when traveling to Hong Kong.
Choosing A Company Name – Search Online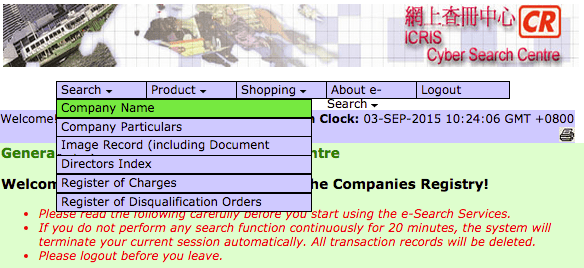 What's in a name?
I will avoid the debate on if your name of the business matters or not as it seems there is a lot of heated debates on this you can find online.
Want to search yourself to see if the company name in Hong Kong is already taken?
It's kind of like searching for your domain name here.
Hong Kong has a free online database to search company information. All another reason that HK is great for you – its transparent and easy to use. You can use this database search for quite a few purposes. For today the purpose is to ensure that your company name you want is available in the Hong Kong business registry.
Many say it doesn't matter what your company name is. I feel it does help you look more legitimate. When you send clients your bank payment details, having a company name that matches your website helps build trust.
You can also buy a shelf company that has a name already if you don't care and just want one fast. Also a lot of us have our products and brands under different names from the corporate entity.
Just food for thought. I for one have my Hong Kong company named Shadstone Limited. This website Global From Asia, is an asset held within the company structure.
How to do a company name search? So easy! It's in both English and Chinese, so don't worry. Go to this link
The website will ask if you are a registered user or not. If you are just going to use this a few times, then no need to register an account and click into non-registered.
After logging in, you will have a pop-up window. Here you can search by many various methods, but for today's use I suggest just keeping it simple and searching by "Company Name".
You can search friends, competitors, suppliers, or client's company information when needed. So many people I know have yet to use this awesome and free available tool!
Hopefully after this exercise you are confident on a company name. In the future, as you do business with other Hong Kong companies, keep this resource on file. You can do a background search them out and find out ownership structures and other interesting facts!
Registration with an Agency
An agency is a company in Hong Kong who will help work alongside you from the beginning to the end of a company setup. Shameless plug: If enjoy this guide then please consider our Hong Kong company registration services.
Depending on the agency's level of involvement and the exact service package, they may help with banking introductions and application. After the company is setup, some may just help with the company filing and be completely hands off going forward. Normally everyone will include a company address and secretary services for a year.
The main point when choosing an agency is finding someone you trust. This is business after all, and especially if you are not located in Hong Kong you should have someone here who "has your back".
You should also consider how much of the work you want done for you as opposed to the amount of work you want to be responsible for. Sometimes there is a confusion between a business owner and an agency on who handles each piece of the company setup and maintenance.
What You'll Get: Green Box & More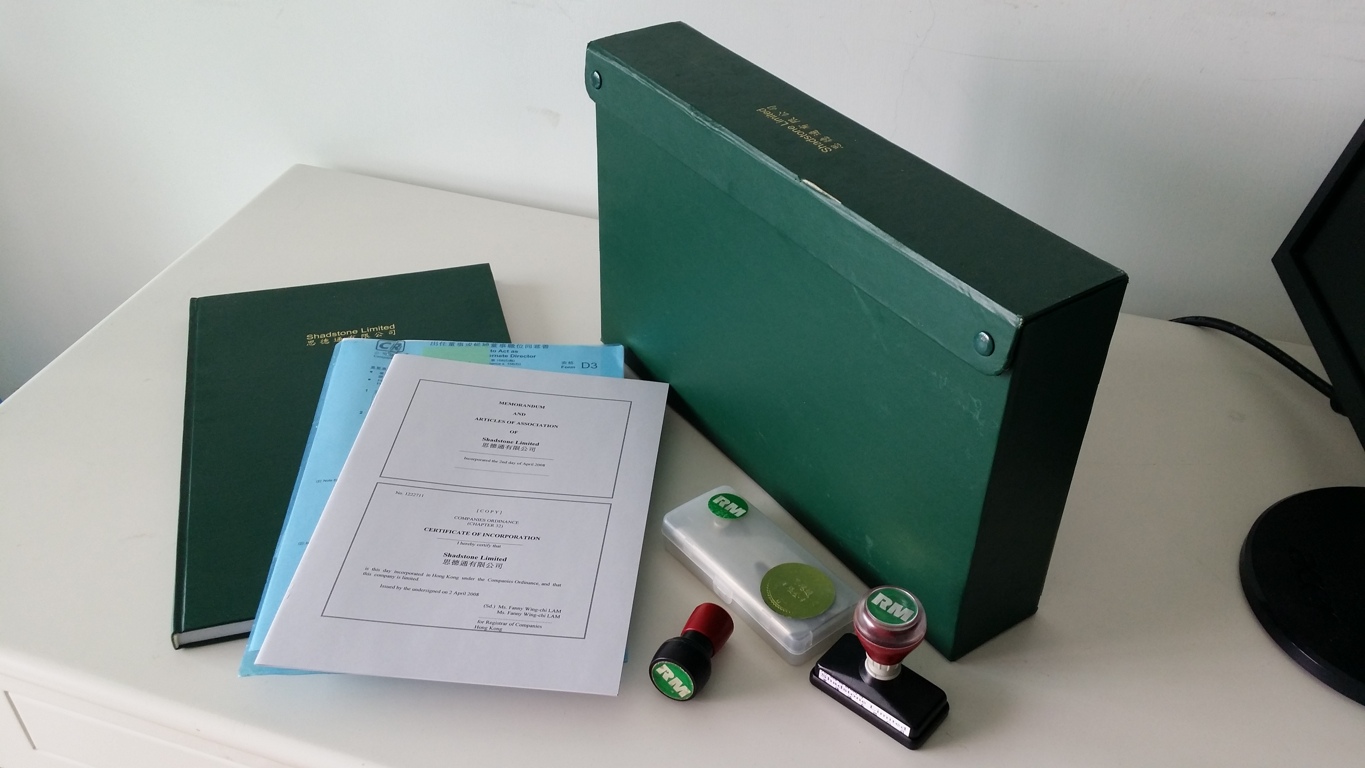 Now is the fun part, goodies!
Congratulations! You have filed all the company formation documents and you're given your formal company tools. You will receive the famous Hong Kong Incorporation "green box". After the company is setup you will receive this box containing tons of various goodies for you to operate. You need to keep the contents at least, for upkeep your brand new Limited company. Here is a breakdown of what is inside the box:
Certificate of Incorporation (CI)
Business Registration Certificate (BRC)
The articles of association (Memorandum & Articles)
The certificate of share ownership (Share Certificate)
The book of decisions of the assemblies (Minute Book)
The two stamps of your company (round and rectangular)
The seal of your company in nice and fancy stainless steel
You'll receive it approximately one to two weeks after the company is setup. When I opened Shadstone Limited in 2008, I picked up a green box from my agency and have never taken it outside of my office. When I opened Social Agent Limited, I never even picked up the green box at all! Many people leave these big heavy green boxes at the company secretary office or not even see them.
Visiting Hong Kong For Bank Account

Some may be wondering if it's even necessary to visit Hong Kong to set up a business there.
I have another extensive blog post about visiting Hong Kong on a short business or personal trip. Check out out before you come, also have some recommended hotels and spots to visit.
While it is technically possible to do everything remotely, the bank account is necessary to come in. It much easier to make the trip to Hong Kong for a few days and just take care of it in person. You can also network a bit with some awesome companies that are growing up in the region.
In particular, the process of opening a bank account is much easier to do when you are here in HK. You can also arrange some other business meetings to make the most of the trip – and do some touristy things too. Maybe we can even meet for a cup of coffee!
You can open the company from your home country (or where ever you happen to be in the world) and online. We mail you the documents by courier, you sign, and then shoot it back. Once the company is setup, the next step is the bank account. This is where it is getting more tricky lately. Take opening a bank account should quite seriously and you will 95% come in person (we'll go over banks in the next section).
Once company and bank account is setup, you may also want to try to come to Hong Kong around once a year. While you can do it remotely, there are some documents you need to sign, at least 1 director. We can of course mail this to you, signed and then mailed back.
Plus I would think it is beneficial to visit your Hong Kong CPA (certified public accountant). If you're curious you can see the Hong Kong Institute of Public Accountants for tons of accountant information. This person is auditing your books. It helps a ton to sit together to review your business practices and bookkeeping methods. Make a business connection with them is beneficial long term.
The more the CPA understands about you and your business the better they can help you.
Also, HSBC and most Hong Kong banks love to see you in person. Its a bit more traditional here in that sense. When you want to update documents and account services, its best done at a branch. Sure, there are ways to do it online and by fax, but for the most part it is best done by visiting a branch in Hong Kong.
Applying for a Bank Account

Getting a bank account has been getting harder and harder. Even just a year or 2 ago we had an interview where he said it was easy.
Sadly, not true nowadays. Globally.
This is due to the FATCA regulations in America about Americans filing overseas.
I know what you're thinking …
"I'm not American and this is a Hong Kong company account!" Why am I affected?
Yes, you may not be American. And you're applying for an account in Hong Kong. Yet America has made everyone declare they are not American and have the paperwork go back to the US for their records. Plus the banks are all nervous they could get fined or even worse banned from the US financial system.
So with that in mind, the first step is to arrange an appointment at HSBC HK SME (Small and Medium Sized Enterprise) center. You can choose any branch you like. Just keep in mind that this will be your branch code as well as the bank address you will use on payment instructions. banks overseas require a bank's address in addition to the bank account number and SWIFT code). So you may want to pick a bank location near your serviced office / company address. You may also want to consider choosing an address that is more "exclusive" (if you care).
I have to say, that I have been hearing it is getting a bit more difficult to get a bank account, the reason for which I am not fully clear. The bank normally requests the following documents from you:
A certified true copy of the full set of corporate documents of the overseas business certified by a CPA, notary public, lawyer, or bank officer from FATF member countries. If it is a Hong Kong company it is much easier as it is Hong Kong company in a Hong Kong bank. The complex part is when you want to open bank accounts with non-Hong Kong Limited companies. But if you are opening a Hong Kong company without the original company documents, you will need to have these copies certified as authentic.
Certified passport – your real passport, in hand, is of course ideal (one for each person on the bank account).
Recent residential address proof of each director. Each shareholder who owns 10% or more interest in the proposed Hong Kong company and any bank account signer (if any, e.g. Secretary or bookkeeper, executive assistant).
Recent residential address proof can be bank statements, telephone / mobile phone bills, or other utility bills. The key part is that less than 3 months before the date of your bank account opening interview. A valid driver license or identification card also works. But it must carry the full name and full residential address of the bearer.

Do I Need To Come To Hong Kong To Open The Bank Account?
Opening the business bank account. I have heard of people say they can go to an HSBC in another country and request to open a Hong Kong bank account there. That the HSBC in that country helps them sign and verify the paperwork and that HSBC country branch will mail those documents to HSBC Hong Kong. But I have personally asked HSBC HK in their central headquarters office, and no, you need to meet them face to face in Hong Kong. Bankers like to meet you face to face. They need to know their customer. Its called KYC (know your customer) in the banking world. Bankers always encourage me to visit their branch if any problems come up. Banks here have always have a lot of staff on hand to quickly get through a queue.
Update on Apply From Outside of Hong Kong – HSBC HK has told me that you can now apply for a Hong Kong bank account from Mainland China branches. So you can do a teleconference to Hong Kong from inside China to open your bank account. The fee is approximately 3,000 Chinese Yuan (500 US dollars) which is about the cost of a flight and hotel for the time to come to Hong Kong from China. I'll work on a full post about this.
And as a general observation I have been seeing banks getting more strict on opening a bank account and want to make sure the owner is responsible and responsive. Take your interview with the banker seriously.
Credit Cards in Hong Kong

Many of us online business owners are making most of our activities online and using credit cards to make payments. So we would prefer of course to have our credit card in the company name and in Hong Kong. You should consider opening credit card at the same time as the bank account.
I have a popular podcast interview about the process of opening a Hong Kong credit card
If you are a new business, it seems HSBC is now requiring a security deposit. I got rejected three times on my first Hong Kong credit card I applied for. I have great credit in USA, but that doesn't matter. The 4th time approved without a security deposit. But that was 2008.
My second credit card was for my second business Social Agent, and that was in 2013. It had been in operation for less than six months and maybe this is why they requested a security deposit. They said in order for me to get a credit card, I needed to give them a security deposit of 10,000HKD to get a credit line of 10,000HKD. So no risk for them if I don't pay my bills, they would simply use my security deposit.
So I still went ahead with it. I wanted to separate my bookkeeping in these two companies and have all expenses from Social Agent to go on this credit card. It would match up with the income from this business and be independent.
I know, a security deposit sucks.
There are friends who say you can get an unsecured credit card in HSBC. But in a personal account not a company, and you need to show stable income or funds in your account.
Using a personal credit card is another option. If you go this route you'd also have to have a personal HSBC account opened with this personal HSBC credit card. Make sure business charges to this credit card, and then pay yourself back and expense it as a reimbursement for a business charge. For me, I want to keep things business and personal separate and streamlined.
Merchant Accounts in Hong Kong

I have an extensive guide and listing of Hong Kong Merchant Accountsand I try to update it on a regular basis. Check that for the most up to date information on companies.
Each merchant account has their own application process. Some have an upfront, non-refundable fee. Almost all will make it extremely difficult with paperwork, maybe even more than when you opened the bank account. This is because you are, I hate to say it, a high risk. Especially if you just opened up the company. Online merchant accounts can lose a lot of money with fraud. They are going to make sure they verify who you are, what your business does, and what you are going to be selling online. So prepare to go through a bunch of hoops to prove you're legitimate.
Paypal Hong Kong
Almost every business that has any online presence has PayPal. And in Hong Kong it's not much different. Unless you are a traditional business – they are pretty stubborn to do anything online. Signing up is pretty straight forward like any other Paypal in the world.
Signup and choose Personal, Premier, or Business. I only use a Paypal Hong Kong account for my business, I do not have a personal Paypal in Hong Kong.
To use PayPal, you need to add a payment method to cover your transactions. This can be your bank account, debit card or credit card. They will make a couple test transactions that you will need to verify on your side and type back into your PayPal account online. Some have some difficulty adding their HSBC bank account to their PayPal account. When they go to add a Hong Kong bank account, the account number field limit is only 6–9 digits. But they see the savings account with HSBC has an account number of 10 digits. The first 3 digits is your branch code, the following 6–9 digits are for your bank account number. Also note that HSBC's bank code is 004. This should help you in typing in the right account number to verify and connect your bank account to your Paypal account.
Verify your account. To verify your Paypal account you need to have 2 small deposits made from your Paypal account to your bank account. Then you can make withdrawals. Once those arrive in your bank account, go back into your Paypal account and enter the numbers. This shows Paypal you have access to that bank account. Your Paypal will then become verified. POA (Proof of Address) is not required for getting this level of verification in Paypal. If you want Paypal Hosted Solutions (virtual terminal) they may ask for address verification to protect themselves.
Making It Real – Getting Your Business Operating in Hong Kong

Some ask, so I have the new company setup, how do I "make my current business fit under this company". I would say once you have the company established and the bank account open – this is when the company is underway.
But as most business owners and coaches say – business doesn't happen until the cash register rings. So really I would say business happens once a client transfer money into your Hong Kong bank account. Or through a Hong Kong underwritten merchant account.
On top of the cashflow going through this new entity, there are a few other things I would suggest. First you should maybe make a domain account in this new company name and update the domain ownership to this entity. You should also update any online SaaS (software as a service) accounts from your old business name (or, cringe, personal name) and into this new Hong Kong limited.
I wouldn't freak out and try to do all this at once. Though it makes it formal, it is normal for there to be a transition period of cashflow and asset and account "control" ownership.
Hong Kong Company Upkeep

Here is a hot topic I am asked about often. Many people have no problem opening a Hong Kong company. There are plenty of agencies who can help you do that. The big question comes up with how much does it cost to maintain a Hong Kong company on an ongoing basis? Check out my extensive blog post on costs to maintain a Hong Kong company if you want to go into more details, but here are some highlights.
For the cost to maintain a company. As always the standard answer is "it depends" and accountants and agencies don't ever like to give you an exact number. I'll break it down piece by piece, so you can understand what each piece is, and then follow up with a real life example of how I do it and the costs.
There are 4 parts to a yearly renewal:
1) Accounting / bookkeeping
2) Audit (which isn't the same as in some governments, explain below)
3) Government paperwork for renewal
4) Your yearly Hong Kong secretary address.
Accounting / Bookkeeping. You should keep records of your financials, monthly would be good. Keep your Paypal, Bank Statements, Credit Card, and loans and cash balances.
Audit. This isn't what it is in America when the IRS is raiding your office and checking for documents. This is the procedure the Hong Kong IRD (internal revenue department) put in place to have a certified Hong Kong accountant (CPA) to go through your books and "sign off" on them. Some CPAs are more thorough than others, as they are putting their reputation on the line.
Government Documents. You have a BRC (business registration certificate) and your NAR1 (annual return) to file yearly. There may be other special forms you get throughout the year that need someone's attention if you're not familiar or able to.
Yearly Secretary Address Renewal. You will need to renew your arrangement with your Hong Kong secretary. Its normally a small fee to continue to use their address and receiving the mail on your behalf. Service companies often combine it with the accounting and audit fees.
So how much is this? I have a full and detailed blog post on Hong Kong company upkeep to get deep into it. To quickly give you an idea, I would budget around $1,500 US dollars per year depending on how much revenue and transactions you have.
Bookkeeping

Depending on the size and volume of transactions in your business, you will do your accounting records on a monthly, quarterly or yearly basis. You can outsource this to an accountant (many of the serviced offices and agencies listed offer this service in house or have partners).
There are also online services like what Michael Wood shared in episode 83.
Running the accounting you will then prepare the standard accounting reports which include:
1) General ledger
2) Vouchers
3) balance sheet
4) income statement
While I'm not a fan of bookkeeping either, these items above aren't much different from most developed countries.
You should also discuss with your Hong Kong CPA what type of system they use and prefer when looking over your financials. Though in my experience they will prefer good old fashioned paper or Excel. Most systems should be able to do these kinds of exports easily.
Sell or Transfer Hong Kong Limited Ownership Shares

There are tons of articles on opening a company, but much less on transferring shares or adding in new business partners. Here on Global From Asia we have a good podcast where we discuss closing and transferring a Hong Kong company. Also please see a post about my own experience selling one of my Hong Kong company. Below I'll go through some highlights on the transfer process.
We want to add a new partner, or maybe we want to sell our shares to new partner or current partners in the company. As your business grows and adapts, owners will come and go. I want to give some basic ideas on how to do this but before you can do any of this, you need to make sure you are not behind on any audits. I have a friend who went through selling out his shares in a company, and unfortunately they were behind on filing their yearly audits. So they had to go through a painful process to make sure all partners agreed to and gave permission to do an audit. He had these business partners scattered throughout the world and it was difficult to get all partners to access and to follow signatures. Once the signing from all directors, then he could move forward and sell his shares to the other owners.
So keep this in mind when you add owners to your business. They will have to sign off on documents every once in a while. If they are not active and accessible or they want to ask a lot of questions about everything, this can make things move slow. I have had this issue in a USA business as well. We wanted to make some adjustments a six percent owner was not as easy to go along and we had to have one hundred percent of the directors sign off. So I had to spend a lot of time explaining everything to this owner to catch him up as he wasn't involved in the day to day operations. So just take this as a word of advice, sometimes things will need 100% of the owners to agree and sign off. If you have 20 owners, this can be a lot of explaining and coordinating to do.
So let's now say your audits are up to speed and everyone is in agreement and ready to sign off. If you are transferring existing shares from one owner to another, this is rather simple process. It needs an official shareholder meeting with official meeting minutes. You should also have a clear agreement between the shareholder selling the shares with the other party who is buying the shares. You should also remove the seller from any signing authority on bank accounts and other business accounts.
Once you complete this agreement and the other owners are aware of it, you go about life and business. No need to file anything with the Hong Kong government until the next yearly Annual Return. In that return, update the new ownership structure with the new owners. The old owners are no longer shown and reported on the annual return.
Closing a Hong Kong Company
There are 2 ways to phase out a Hong Kong company. First way is by putting it "on ice" which we call dormancy. The second way is to closing it down which has the formal term of deregistration.
Putting the company into dormancy (on ice) is when you are not going to be doing any activity in it for the next year or longer. Yet want to keep the assets and business name in Hong Kong so you can "turn it back on" when you need it. Many real estate companies do this, so that they can lower their yearly upkeep costs and also keep their ownership of the real estate in this company name.
Deregistration is the second one, and more likely one if you are just going to fizzle out your company. Please note, that if you are going to close your company in Hong Kong, you must deregister it, not just stop paying the yearly government fees. I am aware in some countries and state governments they just let you stop paying the annual filing fee and then will de-register the company for you. But in Hong Kong, you must go through the process of paperwork and some fees to settle it out all clearly. I would budget about three months from the start for the de-registration process to fully complete. So if your annual audit is coming up, I would time it so I start the deregistration process three months in advance.
No one likes "failing" or writing off a company that they had such high hopes for. If you expect to do business in Hong Kong ever again, do it for your long term personal relationship with the Hong Kong government. If you are going to fail with your business here, go through the proper process of winding it down.
Leverage The Full Power of Hong Kong For Your Business!

I hope I helped you out today in this blog post. It was a long read and I appreciate you making it all the way through. If you have any questions about this guide and want to let me know, please leave a comment below.
Many people, like Aftership are enjoying the benefits of Hong Kong business.
Interested in digging even more with me on the details of a Hong Kong business? You're in luck, I have a full book! It's called "Hong Kong Supercharged" and buying this complete guide will answer every and any question you could have setting up your business here in Hong Kong.
To our mutual success in doing international business from Hong Kong!